Genius™ Intelligent RF Skin Microneedling
What is Skin Microneedling?
Skin microneedling (also called collagen percutaneous induction needling) is a method of skin rejuvenation that involves the use of tiny needles to puncture the skin's surface and stimulate the skin's healing response. Growth factors aid in skin repair and reinforce the skin's structure with new collagen and elastin fibers. The microchannels created by the needles also allow medical-grade serums and skin care products to absorb deeply into the skin. This treatment process can deliver a wide array of skin improvements to create smoother, healthier, more youthful-looking skin.
What is the Genius™ RF (Radiofrequency) Microneedling System?
At Aloha Laser Aesthetics we perform skin microneedling treatments with the FDA-approved Genius Intelligent RF (radiofrequency) microneedling system by Lutronic®. This system applies RF energy to the deeper connective tissue during the microneedling process to deliver results that are more impressive than microneedling alone. When precise levels of radiofrequency energy are emitted through the microneedles to the tissue, the heat effectively stimulates collagen and elastin production and induces tissue remodeling. Genius RF microneedling is the most advanced system of its kind and it is generally safe to use on all skin types and skin tones. This treatment is recommended for patients interested in face and/or neck rejuvenation who want to target the appearance of wrinkles, scarring (including acne scars), skin laxity (sagging), and other signs of skin aging.
What Are the Benefits of Genius™ RF Microneedling?
Customized Genius RF microneedling treatments performed at Aloha Laser Aesthetics can achieve many specific improvements in the condition, tone, texture, health, and appearance of skin. Common skin conditions and signs of aging that can be treated with microneedling include:
Fine lines, wrinkles, and creases
Signs of sun damage
Uneven skin tone
Variations in skin texture
Large pores
Acne and surgical scarring
Skin laxity
Skin discoloration
Stretchmarks
Because the Genius RF microneedling system delivers radiofrequency energy into the deeper layers of the dermis, the risk of hyperpigmentation is greatly reduced. This feature helps make Genius RF microneedling a suitable skin rejuvenation treatment for all skin tones.
What Happens During Genius™ RF Microneedling Treatment?
Before your session begins, a topical numbing cream will be smoothed onto the skin to minimize any potential discomfort you might otherwise feel. Genius RF microneedling is typically well-tolerated by the majority of our patients. Most report a mild sensation of heat and pressure. When the skin is desensitized, the microneedling device is then applied evenly along the areas of the face, neck, chest, or body that are targeted for treatment. The tiny gold-plated needles perforate the skin and radiofrequency energy warms the deep tissue, creating microchannels and stimulating the tissue's healing response. This process may take between 30 minutes to an hour, depending on the size/location of the treatment area and the intensity level of treatment. Once the microneedling is complete, specific skin products aligned with your treatment goals are applied to the skin. Depending on the specifics of your treatment plan, you may return for additional Genius RF microneedling sessions to achieve optimal skin improvements.
What Is the Best Post-Treatment Skin Care Regimen After Genius™ RF Microneedling?
Immediately following Genius RF microneedling treatment, a post-treatment kit will be provided that will include four products to help nourish and soothe the skin for four days after treatment. We have chosen from the most advanced skin care lines available to offer our patients formulations with state-of-the-art skin care technology that can support skin improvements, deeply nourish skin, and provide daily anti-aging protection. Options include:
ROOT OF SKIN ™
ALASTIN Skincare®
EltaMD®
Optimal recovery products and a daily skin regimen can be hand-selected for you based on the goals of your microneedling treatment, skin type, and lifestyle.
If you are interested in learning about how Genius RF microneedling and customized skin care can help you achieve more youthful-looking skin and a healthy glow, contact our office to schedule a skin consultation.
What Kind of Results Can I Expect from Genius™ RF Microneedling ?
Mild skin redness and swelling is common after treatment; however, this temporary condition should substantially dissipate within 24-48 hours. Patients are usually able to resume normal activities (with sun protection) after 48 hours. With microneedling, there are typically two phases of results: the first phase of improvements usually occurs within the first two weeks, while the second phase—which involves the creation of new collagen and elastin—may take up to six months to become fully realized. Once your skin rejuvenation treatment plan and the skin healing process is complete, you should notice marked improvement in your initial skin concerns, whether your goal was to reduce signs of aging, create a more even skin tone, or diminish acne and surgical scars.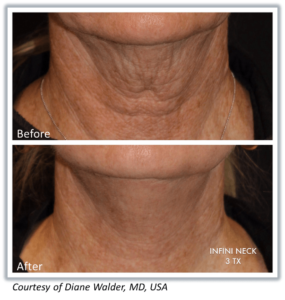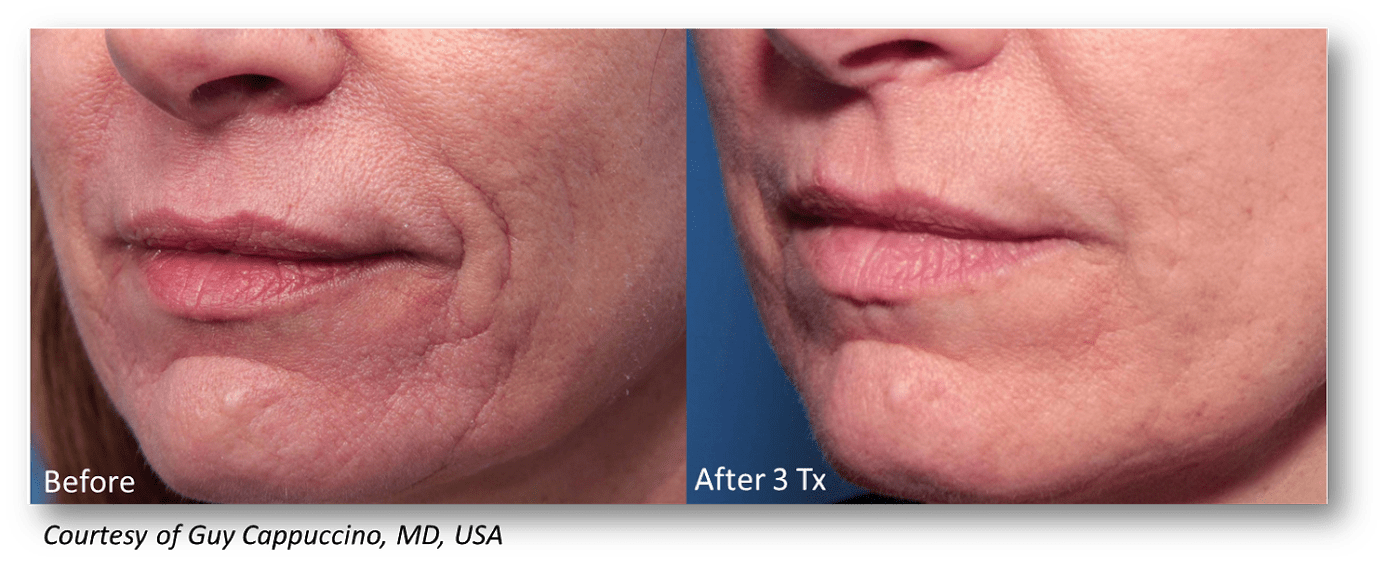 How Much Does Genius™ RF Microneedling Cost?
At Aloha Laser Aesthetic traditional microneedling session costs between $375 and $500, while pricing for Genius RF microneedling treatments are as follows:
Full Face: $800 – $1000
Mid/Lower Face & Neck: $800 – $1000
Neck Only: $600 – $900
Full Face & Neck: $1000 – $1200
Please note that if you choose to purchase microneedling packages, the cost per session can drop further. Also, we sometimes offer special promotional pricing opportunities that can make treatment even more affordable.
The overall price for your custom microneedling treatment plan will depend on a variety of factors:
The location and number of treatment areas
Treatment goals
Number of recommended sessions
Any skin care serums and products
During your skin consultation, you will receive a comprehensive cost estimate for your microneedling treatment plan and any additional skin care products. You have the option to pay for your treatment using any major credit cards, or you may qualify for financing through our practice or a third-party company called Alphaeon™ Credit. An experienced member of our office team can explain all of the payment and loan choices we offer so that you can make the most convenient and affordable decision.
Contact Aloha Laser Aesthetics
Do you want to learn more about Genius RF microneedling and the other innovative skin rejuvenation treatments we offer? Contact Aloha Laser Aesthetics to schedule your personal consultation.
*Individual Results May Vary