Dr. Nikpoor's School Screening Program for Keratoconus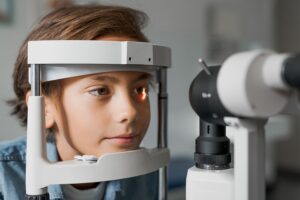 Neda Nikpoor, MD, one of Aloha Laser Vision's distinguished ophthalmologists, has contributed to the development of a program to screen for keratoconus in Hawaii's schools. In a recent issue of Cataract & Refractive Surgery Today, Dr. Nikpoor wrote an article about the importance of the program and provided detailed information about keratoconus and the importance of screening for the condition. Characterized by abnormal thinning and distortion of the cornea, keratoconus is a progressive disorder which can lead to blindness when left unaddressed. While corneal transplant surgery and the advanced corneal crosslinking (CXL) treatment can be very effective in reducing keratoconus when administered by an eye care professional, Dr. Nikpoor created this screening program to increase the chances of curbing the disorder in children by detecting the issue as early as possible.
Paired with ​​Project Vision Hawaii (PVH), a government-affiliated nonprofit which provides free mobile medical screenings and eye exams, Dr. Nikpoor has led Aloha Laser Vision's team in the establishment of protocols for keratoconus screening. Beginning next school year, Better Vision for Keiki, PVH's program for schools, will add a test for keratoconus to their screening protocol, referring children with signs of the impairment to receive further care from their partner organization, Vision to Learn.
Says Dr. Nikpoor, this program is the first step in a plan to facilitate more accessible treatment while also spreading awareness about keratoconus. Using a grassroots approach, Dr. Nikpoor intends to use the data found in these screenings to help identify the groups which are most susceptible to keratoconus. She will also contribute her findings to research into the role of genetics and environmental factors in the development of the condition.
Our team is extremely excited to take part in this groundbreaking program. If you are interested in learning more about keratoconus or other ocular diseases, please contact Aloha Laser Vision today.
Contact Us

For More Information
Email Us
808-792-3937