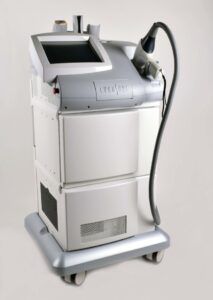 For men and women who want to be rid of unwanted hair, advanced laser hair removal technology from Cynosure® can provide an effective and efficient solution for a multitude of skin types. At Aloha Laser Aesthetics we offer two lasers for hair removal. The Vectus® laser hair removal system and Elite iQ™ laser system are designed to prioritize comfort and deliver exceptional hair reduction results our patients love. Our highly-trained laser technicians are experienced in using these systems and know how to customize treatment for optimal outcomes.
If you are considering laser hair removal and want to learn more about our treatment at Aloha Laser Aesthetics, we encourage you to review the informational sections below or contact our office to schedule a consultation.
What Are the Benefits of Laser Hair Removal?
The Vectus and Elite iQ systems represent the next-generation in laser hair removal from Cynosure, and we are proud to feature these innovative technologies at Aloha Laser Aesthetics. With their powerful laser energy and specialized treatment tips, Vectus and Elite iQ precisely target and damage hair follicles without damaging the surrounding tissue. The ultimate goal is to incapacitate the follicles and prevent the hair from ever growing; however, some thinner, lighter, slower-growing hairs may remain. There are many advantages to hair reduction treatment with these systems:
Unparallelled speed and versatility makes large-volume laser hair reduction more convenient than ever before. Treatment sessions for expansive areas, such as the back, may only take five to ten minutes (using the large spot size).
The small spot size option makes it possible to focus the laser onto smaller more challenging areas like the upper lip or along the hairline, with the same efficiency and speed. Tiny areas requiring retreatment are also ideal for the small spot size.
The FDA-approved, integrated Skintel® Melanin Reader™ makes it simple to customize treatment for individuals with varying skin tones and hair types.
The optimized treatment these systems provide can reduce the number of passes that must be made with the laser to achieve the desired degree of follicle coagulation. With repeated sessions, it is possible for patients to achieve (or come close to) permanent hair removal.
Comfort and safety during treatment sessions is also a priority, and treatment tips feature Advanced Contact Cooling™, which prevents overheating of the skin. 
During a personal laser hair removal consultation, we can evaluate your skin, unwanted hair, and expectations to develop an individualized treatment plan designed to meet your goals. All stages of treatment will be discussed so that you are well informed about the entire process. Every patient is different and we are dedicated to always providing the highest-quality care and results possible.
What Happens During Laser Hair Removal?
When applied to the treatment area for hair reduction, the laser energy from either the Vectus or Elite iQ system can target the hair follicle, ultimately damaging the hair bulb and hair bulge, while leaving the surrounding tissue unharmed. Once the hair bulb has been disrupted by the laser, hair should become lighter, thinner, and slower to grow. It is possible for treatment of this kind to yield permanent hair reduction. Repeated sessions may be recommended to help achieve optimal hair reduction results. Our lasers can be used to effectively reduce hair almost anywhere on the body and face for all skin types.
Are There Side Effects from Laser Hair Removal? 
The state-of-the-art Vectus and Elite iQ lasers were developed with speed and comfort in mind. Most patients report that both laser hair reduction treatment and the brief recovery process are very manageable—especially compared with less advanced laser hair removal systems of the past. It is possible to experience some redness or skin irritation following treatment; however, the Advanced Contact Cooling™ feature on both systems helps keep skin at an even temperature range during treatment and can limit post-treatment skin effects. However, any redness or irritation that may occur typically dissipates quickly. With the Vectus and Elite iQ systems, there is a very low risk of skin tone changes and other significant side effects because of proprietary safety features designed to protect all skin types and tones. Additionally, candidates are carefully evaluated by our team and our laser operators are highly skilled and trained. During your consultation, any risks will be discussed with you so that you are completely informed.    
The results we have been able to achieve at Aloha Laser Aesthetics are consistently excellent and many of our patients recommend laser hair removal treatments to their friends and family.
How Much Does Laser Hair Removal Cost?
The cost of your laser hair removal treatment depends on the area(s) you want to treat and the number of sessions it will take to achieve the results you desire. After a laser hair removal consultation, you will be presented with a customized treatment plan and a detailed cost estimate for your plan. As with many of our other aesthetic treatments, buying a package of treatments at once can lower your cost per session, and many of our patients choose to take advantage of this option. We also offer access to financing through third-party companies. Qualified applicants can arrange low monthly payments on loans that are designed to be affordable—making the payment process more budget-friendly and convenient.
Contact Aloha Laser Aesthetics
To learn more about laser hair removal, clinical-grade skin care products, and the other aesthetic services we provide, please contact our office to speak with a knowledgeable member of our team. We are happy to help you schedule an appointment!
*Individual Results May Vary