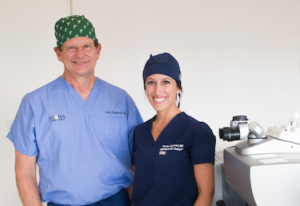 Our respected ophthalmologists and optometrists at Aloha Laser Vision are extensively trained and experienced healthcare professionals dedicated to helping you meet your needs. Offering a full range of eye and vision care procedures, including laser vision correction, cataract surgery, and treatment for many common eye diseases and ophthalmic conditions, our doctors utilize some of the latest techniques to improve vision with successful results.
Meet Our Eye Doctors
We invite you to learn more about our skilled eye doctors by reading their comprehensive biographies, which detail their education, training, experience, specialties, professional associations, career paths, and personal interests.
How to Choose an Eye Doctor
Vision is one of our most precious senses, and it should only be entrusted to a qualified eye doctor who has experience, training, and technology you can rely on for outstanding care. Most patients who are looking for an eye doctor or LASIK eye surgeon begin with some research. This process may include exploring the internet for local doctors or asking friends for recommendations—but how does one determine the best eye doctor for his or her needs? To assist you in evaluating your options, our team at Aloha Laser Vision has developed a checklist of questions that may help you discover the most qualified eye doctor and vision care center for your treatment—whether you are interested in routine treatment, advanced vision correction, or complex eye surgery.
Is the eye doctor a board-certified ophthalmologist or licensed optometrist?
How many years of experience do they have?
What is their success rate performing the treatments or surgery you are considering?
How many times have they performed the treatments or surgery you are considering?
Do they use the latest diagnostic and treatment technology?
If you are considering a laser procedure, are their lasers properly maintained and regularly serviced?
Are they highly regarded by their patients? Make sure to check online ratings and reviews to read about their patients' personal experiences.
Will a thorough consultation be performed before treatment planning begins?
Do you feel comfortable and confident with your choice when you meet them in person?
Is treatment customized to suit your unique vision care needs?
Does the practice run smoothly? Are they supported by an experienced team of qualified professionals?
Does the practice accept your insurance?
Do they provide a comprehensive cost estimate for your care?
Do they offer fair pricing and financing options?
At Aloha Laser Vision our team consists of board-certified ophthalmologists, licensed optometrists, and highly trained clinical staff who are among their best in their field. We welcome you to find out for yourself by scheduling a consultation to learn more about our doctors and the state-of-the-art treatments and services they provide.
Why Choose Aloha Laser Vision?
Aloha Laser Vision is so much more than just a laser refractive center! In addition to LASIK, PRK, and other advanced refractive procedures, we offer a wide range of eye care and vision correction treatment alternatives tailored to suit each patient's unique needs and ocular condition(s). Furthermore, we have expanded our practice to include an array of effective cosmetic laser treatments and advanced skin care products.
Since 2001 Aloha Laser Vision has invested more in new and updated technologies than any other center in Hawaii. Our state-of-the-art equipment and advanced treatment capabilities allow us to achieve our ultimate goal of delivering better outcomes for our patients. Our practice founder, Dr. Alan Faulkner, has pioneered numerous procedures in Hawaii, including all-laser LASIK, EVO Visian ICL®, and, most recently, Contoura™ Vision with Topography-Guided LASIK Treatment. Recognized both nationally and internationally for his experience and expertise, Dr. Faulkner is frequently an invited lecturer at industry meetings worldwide. Dr. Neda Nikpoor, another internationally-acclaimed ophthalmologist, joined the Aloha Laser Vision team in 2020. She shares Dr. Faulkner's passions for using the latest technology, developing personalized treatment plans, delivering optimal outcomes, and treating patients like family.
When you choose Aloha Laser Vision, we are always available – our eye doctors and staff are local and "on call" 24 hours a day in case you need us. You can always count on receiving the highest level of care from our attentive team. We are proud to say that overall our patients are extremely satisfied with their experience at our practice, as well as the outcomes of their treatment. In fact, over 95% of our patients see 20/20 or better after LASIK!
Aloha Laser Vision has been selected to participate in a number of clinical trials that include refractive surgery, presbyopia, and crosslinking. We are currently amongst a small handful of practices involved in FDA clinical trials.
If you are considering treatment for your vision, we invite you to experience Aloha Laser Vision for yourself during a personal consultation. Contact our practice today to schedule a visit to learn more about achieving the clear vision you desire.
To learn more about our eye care team, please contact Aloha Laser Vision today.
*Individual Results May Vary