PicoSure® Pro Skin Rejuvenation & Laser Tattoo Removal
Home | Aesthetics | PicoSure® Pro Skin Rejuvenation & Laser Tattoo Removal

At Aloha Laser Aesthetics, we incorporate the latest breakthrough technologies in both laser vision correction and aesthetics. To provide our patients with the highest quality laser skin treatments, we now offer the FDA-approved PicoSure® Pro laser from Cynosure®, a picosecond laser that can be used for a variety of aesthetic applications. When combined with the patented Focus™ lens array, this advanced laser technology allows for significant skin rejuvenation results with minimal downtime, as well as effective removal of multi-colored tattoos. Whether you desire healthy youthful-looking skin or quick removal of your unwanted tattoo, customized PicoSure® treatments at Aloha Laser Aesthetics can help you achieve your cosmetic goals.
What are the Benefits of Treatment with
PicoSure® Pro?
The PicoSure® Pro laser represents the gold standard in aesthetic laser technology, and we are proud to offer this state-of-the-art treatment to our patients. The ultra-short picosecond laser pulses of the PicoSure® Pro laser, which are one hundred times shorter than a nanosecond, create an intensive photomechanical disruption of ink pigments and targeted tissue breakdown, making it an ideal system for skin rejuvenation (with the Focus™ lens) and tattoo removal that works for all skin types. Treatment with PicoSure® Pro can be customized to precisely suit each patient's skin needs and cosmetic objectives, and unlike other high-powered aesthetic lasers, patients generally report less discomfort during treatment and recover within hours (instead of days) after their session.
The versatility, efficiency, and effectiveness of the PicoSure® Pro laser offers many treatment benefits to patients. Depending on the wavelength, pressure settings, and lens being used, treatment with the PicoSure® Pro laser can:
Diminish the appearance of acne scars
Stimulate collagen and elastin production to reduce wrinkles
Reduce signs of sun damage
Treat hyperpigmentation
Remove pigmented lesions
Noticeably rejuvenate the overall condition and appearance of skin
Remove multi-color tattoos and resistant tattoo ink
Who is a Candidate for Treatment with PicoSure® Pro?
PicoSure® Pro is FDA-approved to treat all skin types; however, not everyone is an ideal candidate for the procedure. A consultation at Aloha Laser Vision can reveal if PicoSure® Pro is the right choice for achieving your anti-aging, skin rejuvenation, or tattoo removal goals. In some cases a different treatment may be better suited for your unique needs.
What Happens During the PicoSure® Pro Procedure?
Prior to treatment with the PicoSure® Pro laser, a topical numbing agent is applied to desensitize the skin and diminish potential discomfort. You will likely feel the laser during treatment, but the degree of sensation will depend on the intensity of treatment and your individual threshold for discomfort. Compared to other laser systems, the PicoSure® Pro laser is considered to be well-tolerated, and many of our patients report that any uncomfortable sensations were minimal and "worth it" in light of the results they were able to achieve with treatment.
The aesthetic goals of your treatment will determine the number of sessions you will require with the PicoSure® Pro laser. During your consultation, you will find out approximately how many sessions it will likely take to achieve the results you desire.
Are there Side Effects of Treatment with PicoSure Pro?
The PicoSure® Pro laser will initially produce some redness and minor swelling in the treatment area. These side effects typically dissipate within one to a few hours. When treatment is more intensive, as it may be when performing acne scar reduction or tattoo removal, it may take 24 hours for swelling and redness to subside. Treated pigmentation may darken temporarily, followed by mild peeling. Most patients find these short-lived effects to be very tolerable and a small inconvenience considering the significant skin benefits they enjoy as a result of treatment.
Unlike treatment with other skin lasers, you won't have to worry about avoiding the sun after your treatment with PicoSure® Pro, as there is no increased risk for sunburn or skin irritation. Additionally, PicoSure® Pro is safe for all skin types and skin tones.
How Much Recovery Time Will I Need after PicoSure® Pro Treatment?
There is virtually no downtime required after treatment with the PicoSure® Pro laser. Many patients have their PicoSure® Pro sessions scheduled as a lunchtime treatment and return to their usual activities right away. Any temporary post-treatment redness or swelling can often be easily concealed with makeup, and should not last for more than a day. In many cases, signs of treatment resolve in an hour. Your treatment professional can educate you about exactly what to expect following your customized session.
What Results Can I Expect after PicoSure® Pro Treatment?
Since PicoSure® Pro stimulates the body's natural healing response within the skin, some results will take time to become fully visible. Significant results should start becoming apparent within the first week after treatment. The effects are different for each individual, and your treatment professional should be able to guide your expectations as you heal and inform you whether more sessions will be necessary to achieve optimal results. Our patients are generally thrilled with the smooth, clear, youthful-looking skin they achieve with PicoSure® Pro, and they often recommend the treatment to friends and family interested in tattoo removal and/or skin rejuvenation.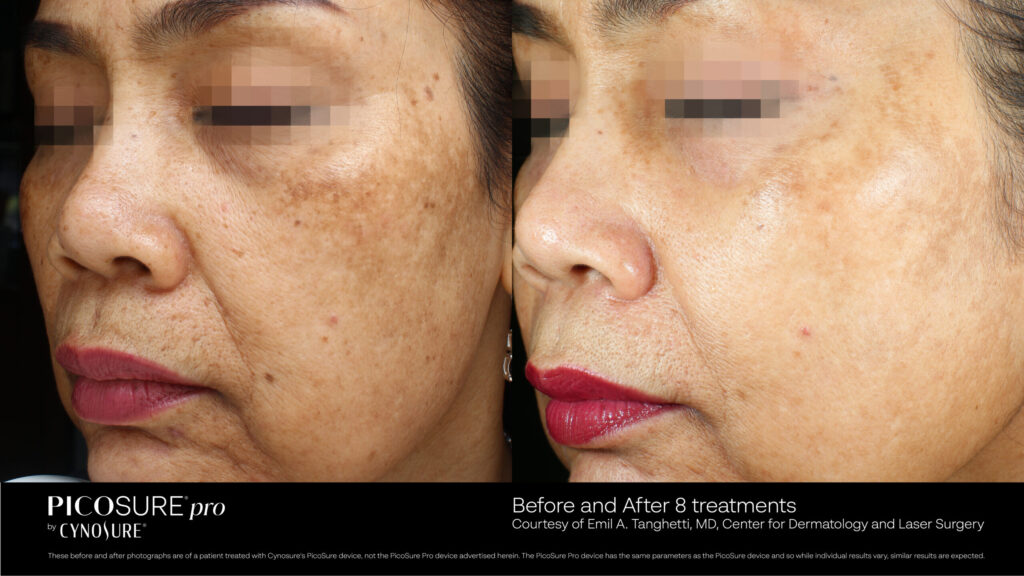 How Much Does PicoSure® Pro Cost?
Achieving an optimal outcome with PicoSure® Pro requires a treatment plan tailored to your specific skin concerns. The size and location of the area being treated, intensity of treatment, and number of sessions are different for each patient and can cause the overall price to fluctuate. At Aloha Laser Aesthetics, PicoSure® Pro sessions can vary between $375 ­to $900 per treatment. We do offer special pricing when multiple treatment sessions are purchased in a package. During a personal consultation, you can receive an accurate price quote for PicoSure® Pro treatment, learn more about package deals, and discuss payment methods we accept. If you are interested in financing for your cosmetic treatment, third-party lender Alphaeon™ Credit may provide an affordable loan or payment plan you can qualify for.
If you have questions about PicoSure® Pro or our other aesthetic lasers, we encourage you to contact our practice to connect with a knowledgeable member of our staff and schedule a consultation.
*Individual Results May Vary