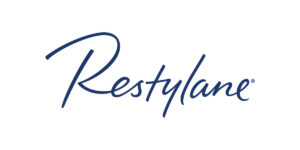 At Aloha Laser Aesthetics we perform injectable cosmetic treatments with Restylane® dermal fillers. This family of hyaluronic acid-based injectables is created by Galderma® and each product is designed to correct specific cosmetic concerns and diminish visible signs of facial aging. With Restylane®, Restylane® Lyft, Restylane® Silk, Restylane® Kysse, Restylane® Refyne, and Restylane® Defyne, our highly trained and experienced injector—Alan Faulkner, MD—can accomplish natural-looking facial rejuvenation and accentuate cheek and lip contours. Restylane products are formulated with the latest dermal filler technology to provide quality results that meet patient expectations. For some patients, Restylane dermal fillers can be combined with BOTOX® Cosmetic, Jeuveau™, Dysport®, or laser skin rejuvenation into a custom treatment plan for optimal results.
Learn more about each Restylane product and the treatments we perform by exploring the informative sections provided below:
What is Restylane®?
The traditional Restylane gel injectable is formulated to mimic the properties of the body's own natural hyaluronic acid. Restylane is versatile and FDA-approved for the treatment of moderate to severe facial wrinkles and folds, in addition to natural-looking lip augmentation. The majority of patients who receive treatment with Restylane experience results that last up to 18 months or longer. Restylane-L® is essentially the same product as Restylane; however, it contains an additional ingredient—lidocaine—to enhance comfort during injection. Restylane and Restylane-L are generally the longest lasting products in the Restylane family.
What Is Restylane® Lyft?
Restylane Lyft (formerly known by the product name Perlane-L®) is specially formulated and FDA-approved to enhance cheek volume, restore youthful fullness in the mid-face region, and rejuvenate the appearance of aging hands. The hyaluronic acid molecules that are used to create Restylane Lyft are considered larger in size, which can help results last longer. With injections of Restylane Lyft, most patients are able to achieve natural-looking volume restoration that lasts for up to six months and sometimes more. For added comfort during injections, Restylane Lyft contains lidocaine, an anesthetic.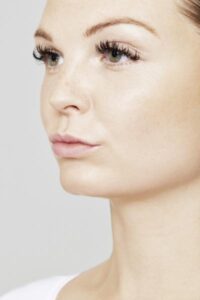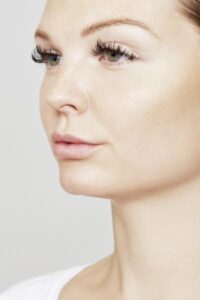 Cassandra, 27 years
Areas treated: cheeks, lips
Products used: Restylane Lyft, Restylane Kysse
What Is Restylane® Silk?
Restylane Silk is an extra smooth hyaluronic acid-based dermal filler that is FDA-approved and formulated specifically to enhance the volume and shape of lips, as well as smooth vertical lip lines and wrinkles (which are called perioral lines, but are often referred to as "smoker's lines" or "lipstick lines"). Subtle, natural-looking lip augmentation and lip rejuvenation results can be possible with Restylane Silk due to the relatively small-sized hyaluronic acid particles the product is comprised of. Most patients see results that can last up to 6 months or more. Restylane Silk also contains lidocaine, an anesthetic, to help prevent discomfort during injection.
What is Restylane® Kysse?
Restylane® Kysse is the newest product in the Restylane® dermal filler family, and it is FDA-approved for lip augmentation and the smoothing of fine lines along the lips. Dr. Faulkner uses Restylane Kysse to plump, smooth, and soften patients' lips, as well as rejuvenate lips for a more youthful look. The small particle size of the hyaluronic acid molecules used to create Restylane Kysse, as well as its flexible cross-linking technology (called XpresHAn Technology™), help to give the product its incredible properties. When compared with other lip augmentation fillers on the market, Restylane Kysse offers the most subtle and natural-looking aesthetic outcomes, as well as results that can last for up to a year. After treatment, patients often remark about the soft texture, natural feel, and gentle plumpness of their lips. Many patients also experience a boost in lip color, which Galderma® calls the "lipstick effect".

What Is Restylane® Refyne?
Restylane Refyne is a flexible hyaluronic acid-based dermal filler that is uniquely formulated to  smooth moderate to severe facial wrinkles and folds, such as nasolabial folds and marionette lines (which are often referred to as laugh lines or smile lines). This next-generation filler product contains Galderma's proprietary XpresHAn Technology™, which crosslinks the hyaluronic acid molecules in a way that allows patients to maintain natural-looking facial expressions and movement in treatment areas. The lifespan of results is typically between 9 to 12 months; however, every patient is unique and longevity may vary. As with the other Restylane products, Restylane Refyne contains lidocaine to enhance comfort during treatment.
What Is Restylane® Defyne?
Restylane Defyne is very similar to Restylane Refyne; however, Restylane Defyne is more ideally suited for treatment of deep facial wrinkles and folds. Like Restylane Refyne, Restylane Defyne also includes XpresHAn Technology™ for flexible, natural-looking results. Aesthetic improvements achieved with Restylane Defyne may last between 9 to 12 months, though this time range can vary among patients. Restylane Defyne is formulated with lidocaine for added comfort during treatment.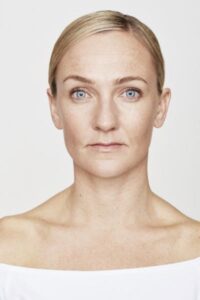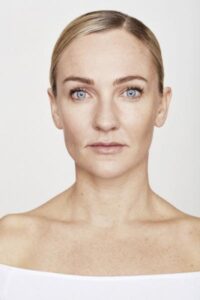 Sofia, 39 years
Areas treated: chin, cheekbones, lips, smile lines, marionette lines
Products used: Restylane Lyft, Restylane Defyne, Restylane Kysse
What Happens During Restylane® Treatment?
Before your treatment with a Restylane product begins, cold compresses and/or a topical anesthetic cream is applied to help desensitize the skin and prevent discomfort during injection. Next, the Restylane product is injected via microneedle to achieve the desired effect. The depth of the injections and volume of filler applied will depend on the area being treated, the degree of correction required, the product being used, and the patient's unique goals. Different Restylane products may be utilized during the same session to achieve comprehensive facial rejuvenation and the most natural-looking results. When the injections are complete, cold compresses may be reapplied to mitigate any redness or swelling. Treatment sessions usually last between 15 to 30 minutes.
Does Restylane® Treatment Have Side Effects?
The most common side effects patients experience following treatment with Restylane are mild swelling, redness, sensitivity, and in some cases bruising—all of which are temporary and should dissipate quickly. No downtime is required after Restylane injections; however, if you are self-conscious about residual swelling, you may want to plan your treatment session accordingly.
What Are the Results of Restylane® Treatment?
Restylane injections are excellent for restoring depleted facial volume, smoothing wrinkles, and enhancing the lips with natural-looking results. In some instances you may want to return a couple of weeks after your initial treatment for touch-up injections that can further perfect your results. Based on the Restylane products used, where they are injected, and your unique rate of filler dissolution, injections will need to be repeated to maintain optimal results. Dr. Faulkner can help you develop a regular injection schedule to keep your lips and/or face looking their best.
How Much Does Restylane® Treatment Cost?
The overall price for your Restylane treatment will be determined by the number of dermal filler vials used to accomplish your treatment goals. One of our aestheticians can discuss the price per vial and how much filler you will need, so that you are aware of how much your treatment will cost up front.
At Aloha Laser Aesthetics we occasionally offer promotional pricing on Restylane products and we also participate in the ASPIRE Galderma Rewards® loyalty program, which can save you money on future purchases of Restylane and other Galderma products. A friendly member of our staff can explain precisely how this program works and how to sign up. If you are looking for additional ways to make your aesthetic treatments more affordable, you may want to ask about available financing options through CareCredit® and Alphaeon™ Credit. Qualified applicants can take advantage of budget friendly payment plans and loans to pay for elective treatments.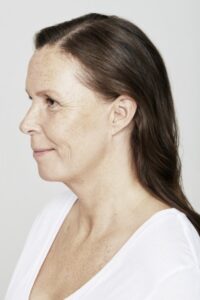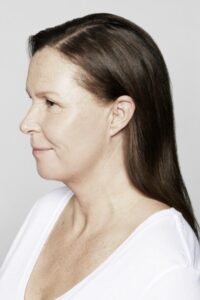 Katriina, 54 years
Areas treated: face and forehead
Products used: Restylane Skinboosters Vital & Vital Light
Do you have questions about Restylane or any of our other non-surgical aesthetic treatments? Contact our office and schedule a consultation to find out how Aloha Laser Aesthetics can help you look and feel your very best.
*Individual Results May Vary