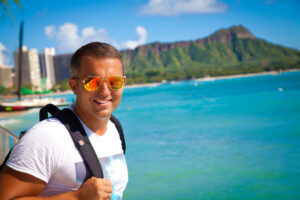 As the eye's natural crystalline lens loses its ability to clearly focus what we see, vision problems—such as nearsightedness, farsightedness, astigmatism, and presbyopia—develop, often requiring corrective lenses for vision improvement. At Aloha Laser Vision, our ophthalmologists offer many state-of-the-art procedures that can reduce dependence on glasses and contact lenses. In addition to LASIK and PRK, our eye surgeons—Alan R. Faulkner, MD and Neda Nikpoor, MD—perform a vision correction procedure called refractive lens exchange (RLE), which can deliver high-quality vision at fixed or multiple distances, prevent the need for future cataract surgery, and make you less reliant on glasses/contacts to see.
Would you like to find out if RLE or another vision correction procedure is right for you? We welcome you to explore the informative sections we've provided below, or contact our practice today to schedule an appointment.
What is Refractive Lens Exchange?
Refractive lens exchange (RLE) is surgical procedure that replaces your eye's natural lens with an artificial one—called an intraocular lens (IOL)— to correct nearsightedness, farsightedness, and/or astigmatism for reduced dependence on glasses and/or contact lenses. RLE can be an excellent alternative for patients who are not appropriate candidates for LASIK or PRK vision correction.
What Are the Benefits of RLE?
There are several advantages to the refractive lens exchange procedure, including:
Improved vision
Considered a safe procedure
Quick visual recovery
Permanent results without the use of a laser
No need for cataract surgery in the future
Reduced dependence on glasses and contact lenses
Exceptional success rate
Though artificial lenses have been traditionally used in cataract surgery, the advancements of this newer technology can now improve a patient's vision at all distances (multifocal IOLs).
What Are My Lens Replacement Options?
There are three different types of IOLs that can be used for an RLE procedure: monofocal, multifocal, and toric. As a leading eye surgery practice in the United States, we are proud to offer the following innovative IOL brands.
RxSight™ Light Adjustable Lens
The term "light adjustable" refers to this IOL's photosensitive material that can adjust its shape and strength according to your unique visual needs. The RxSight™ Light Adjustable Lens is a highly advanced IOL, and is the first light adjustable lens to ever be released. It boasts an extremely high success rate.
AcrySof® IQ PanOptix® Trifocal Lens
This multifocal lens can provide exceptional enhancements for virtually any type of visual impairment, from nearsightedness and farsightedness to presbyopia and astigmatism. In fact, the AcrySof® IQ PanOptix® Trifocal Lens is renowned for its ability to improve intermediate vision without harming near or distant vision. Like the RxSight™ Light Adjustable Lens, the AcrySof® IQ PanOptix® Trifocal Lens is considered one of the most effective IOLs on the market.
Vivity Lens
The Vivity Lens, manufactured by Alcon, uses X-WAVE™ technology to extend the range of vision. As such, it has helped many nearsighted patients develop stronger distance and intermediate vision. This exclusive IOL is only offered by the most reputable surgeons, such as our very own Dr. Faulkner and Dr. Nikpoor.
Who Is a Candidate for RLE?
Generally, patients over the age of 40 with significant visual impairment are most often considered for RLE. In addition, those who seek RLE are typically not interested in prescription eyewear, or have not had success with glasses or contact lenses.
How Is Refractive Lens Exchange Surgery Performed?
Refractive lens exchange surgery is performed on both eyes the same day. The eyes are treated one eye at a time and each procedure takes about 20 to 25 minutes. Before surgery begins, you will be given an intravenous (IV) sedative to relax you while anesthetic drops are applied to desensitize the eye. To begin, the LensX Laser is applied to the base of the cornea. Once treatment with the LensX Laser is finished, the natural lens is removed and the new IOL can be placed to complete the procedure. The process is then repeated on the other eye.
What Is Recovery After Refractive Lens Exchange Like?
Following RLE, most patients are working and/or driving the very next day. Attending all scheduled follow-up appointments is important, and any prescribed eye drops should be applied as instructed. You may notice some mild irritation and/or the presence of blurriness, halos, or glare as your eye initially heals and adjusts to the IOL—this is normal and your eye surgeon will keep a close watch on your progress to ensure your recovery is going smoothly. If you have any concerns or questions, we insist that you contact our practice as soon as possible. While many patients notice improvements in their vision soon after their surgery, it may take a few weeks before you experience the full results of RLE.
How Much Does Refractive Lens Exchange Cost?
To find out how much your RLE procedure may cost, you will need to visit our practice for a personal evaluation. The overall price of your procedure will depend mainly on the technology used to complete the surgery and the type of IOL you decide on with your doctor. When you choose Aloha Laser Vision for your RLE surgery, you can rest assured that you have selected a state-of-the-art facility run by a highly trained team and equipped with the latest vision correction technology.
To help make paying for treatment more affordable and convenient for qualified applicants, we offer several different monthly payment plans with no-interest, as well as accept payment with Alphaeon™ Credit. If you are interested in learning more about pricing and eye care financing, a knowledgeable member of our team will be happy to discuss these details with you.
Why Choose Aloha Laser Vision for RLE?
Aloha Laser Vision is a renowned eye care practice that features some of the most advanced vision correction procedures in Hawaii. Our opthamologists, Dr. Faulkner and Dr. Nikpoor, are both highly respected in the industry and have been widely recognized for their groundbreaking work. Both doctors have written for various medical journals and have been guest lecturers at events around the world. Additionally, both have earned a multitude of awards for their work.
Dr. Faulkner and Dr. Nikpoor are not only known for their advanced expertise in a wide range of eye solutions, but also for providing compassionate care. Patients trust them to perform safe, successful procedures, and they consistently exceed expectations.
Additional Frequently Asked Questions
Is RLE Surgery Painful?
RLE surgery is considered relatively painless. As we said above, patients are usually given IV sedation before the surgery, which can help minimize discomfort. You may experience some irritation after the lens is placed, but it should fade within a few days.
Will I Be Awake During RLE Surgery?
Because RLE tends to be a very short and pain-free procedure, patients should not need to be put to sleep. However, expect to be sedated during the surgery. For this reason, we recommend arranging a ride home.
What Are the Risks of RLE Surgery?
Though rare at our practice, RLE does pose a few risks, as with any surgery. Potential complications associated with this procedure include:
Retinal detachment (most common in patients with myopia)
Ptosis (droopy eyelids)
Infection
Temporary blurriness
Keep in mind that these risks are quite uncommon, and the surgery is considered very safe. Your surgeon will discuss any risks you should be aware of before your procedure.
How Long Will My Replacement Lens Last?
IOLs are designed to last a lifetime. Thus, RLE is generally considered a permanent solution, and your new lenses have very little chance of losing function over time.
Can RLE Surgery Be Reversed?
RLE surgery cannot be reversed because the natural eye lens is removed during surgery. That said, complications are rare. In addition, most patients see such a significant improvement in their vision that they are very happy with their long-term results.
Contact Aloha Laser Vision
Aloha Laser Vision is dedicated to meeting the vision needs of our patients by providing safe, high-quality eye surgery procedures. We are proud to serve patients from Honolulu, Hawaii and beyond, and look forward to helping you attain optimal vision. Please contact Aloha Laser Vision today to learn more about how we can help.
*Individual Results May Vary