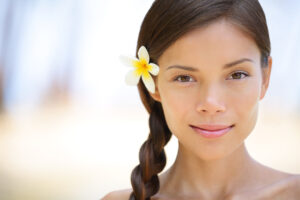 In addition to state-of-the-art eye care and vision correction procedures, Aloha Laser Vision offers several advanced aesthetic enhancement options. Our cosmetic treatments are focused on enhancing the appearance of the eyes and skin through the use of effective products and advanced cosmetic laser technology.
EMSCULPT NEO®
The first cosmetic treatment to use high intensity electromagnetic (HIFEM) energy to sculpt the muscles while destroying fat cells with radiofrequency (RF) waves, EMSCULPT NEO is truly a one-of-a-kind body contouring procedure. Typically conducted in multiple sessions, EMSCULPT NEO can give you the toned, contoured physique you have always wanted.
SculpSure™
The non-surgical, non-invasive SculpSure system can diminish stubborn excess fat from many areas of the body using innovative light-based technology. There is no recovery or downtime associated with SculpSure, which makes achieving the smooth, lean figure you desire easier than ever.
Advanced Skin Care
Proper skin care is the foundation of beautiful, youthful-looking skin, which is why we offer several top skin care lines at Aloha Laser Vision. ALASTIN Skincare®, ROOT OF SKIN™ MD, Revision Skincare®, AlumierMD®, and EltaMD® are clinically proven skin care products designed to smooth, deeply hydrate, and/or protect skin to diminish signs of aging and rejuvenate the complexion.
BOTOX® Cosmetic
Injections of BOTOX Cosmetic have the power to dramatically reduce the prominence of facial wrinkles for three to four months or more! Whether you are concerned about creases between the brows, crow's feet, forehead wrinkles, or wrinkles around the mouth, a custom BOTOX Cosmetic treatment plan developed by our experienced injector—Dr. Alan Faulkner—can give you the smooth, youthful skin you desire.
Jeuveau™
Jeuveau by Evolus® is the newest injectable botulinum toxin product FDA-approved to relax moderate to severe wrinkles between the eyebrows. With customized Jeuveau treatment, glabellar lines, which are also referred to as furrows or "11" lines, can be reduced for three to four months. Compared to BOTOX Cosmetic, Jeuveau has been proven to be more effective for the treatment of deep creases, making it a desirable alternative for patients who are good candidates.
Restylane®
Using the most suitable Restylane products for your needs and cosmetic goals, your aesthetician can temporarily reverse visible signs of aging and enhance your natural beauty without surgery. The Restylane family of injectable hyaluronic acid-based dermal fillers can restore youthful volume to the face, smooth wrinkles, define facial contours, and augment the lips with natural-looking results.
Revance® RHA®
Another hyaluronic acid-based dermal filler, Revance® RHA® can reduce the appearance of moderate to severe dynamic wrinkles, such as nasolabial folds (creases around the nose and mouth). "RHA" stands for "resilient hyaluronic acid," meaning the strong solution present in the injectable can adapt to our natural facial movements and restore youthful volume to the face.
Eyelash Treatments
We offer both FDA-approved LATISSE® and ALPHAEON® BEAUTY Eyelash Serum to help our patients achieve longer, fuller, darker eyelashes. When these treatments are applied daily to the base of eyelashes, most patients experience a noticeable improvement in the appearance of lashes within a couple of months.
Laser Hair Removal
The Vectus® and Elite iQ™ lasers are dedicated solely to laser hair removal and incorporate state-of-the-art technological advancements. These innovative features can make the laser hair removal process faster, more effective, and more comfortable than ever before.
Smartskin®+ CO2 Laser Skin Resurfacing
The Smartskin+ CO2 micro-ablative skin resurfacing laser can be used to accomplish dramatic improvements in skin tone, firmness, and texture, as well as diminish deep wrinkles and the effects of sun exposure. Best of all, Smartskin+ fractional laser treatments can bring about brighter more youthful looking skin with less downtime and discomfort than other ablative skin lasers.
ICON™ Laser Skin Resurfacing
Advanced skin rejuvenation treatments with the ICON system can tighten, smooth, and renew the skin for a more youthful appearance. The versatile ICON platform can perform both IPL/photofacial treatments and non-ablative laser skin resurfacing, which can target redness, hyperpigmentation, scars, and many signs of skin aging to create a radiant complexion.
HydraFacial

We are proud to offer the HydraFacial system as an exciting new skin rejuvenation option. This exfoliating treatment involves the use of a wand-like applicator, which is glided across the skin to rid it of dead cells and reduce the appearance of acne, hyperpigmentation, brown spots, and other blemishes. The procedure is quick and virtually painless, and the results are often instantly visible.
Skin Tightening with TempSure™ Envi
Non-surgical TempSure™ Envi uses radiofrequency energy to firm and smooth skin. It is great for areas including forehead lines, folds between the eyebrows, crow's feet, nasolabial folds, wrinkles around the mouth, and loose skin around the eyes.
Potenza™ Microneedling
Another advanced microneedling treatment, Potenza employs both monopolar and bipolar RF energy to renew the skin's collagen and elastin production. This innovative procedure can address common aesthetic issues like lines, wrinkles, and jowls, and can contribute to a much healthier and more balanced skin tone.
PicoSure® Pro
PicoSure® Pro is a versatile aesthetic picosecond laser that has been proven safe and effective even on darker skin tones. For those with hyperpigmentation, sun damage, acne scars, and pigmented lesions, PicoSure® Pro provides an advanced solution for comprehensive skin rejuvenation.
Why Choose Aloha Laser Aesthetics for Cosmetic Treatment?
Although LASIK laser eye surgery may be what Aloha Laser Vision is named for, we also provide top-quality aesthetic treatments that can help patients look and feel their very best. Our doctors are passionate about the ability of lasers to provide highly effective and minimally invasive treatments for both the eyes and the skin. Dr. Alan Faulkner—the medical director and founder of Aloha Laser Vision—is also highly trained and experienced in administering a range of injectable treatments, including BOTOX® Cosmetic for wrinkle reduction and the popular Restylane® line of dermal fillers.
All of us at Aloha Laser Vision take pride in offering state-of-the-art technologies that can help make treatments safer, more effective, and more comfortable. We are committed to keeping up with the latest aesthetic technologies and best-practices in order to maximize patient outcomes. Our aesthetic treatments are designed to help you feel confident, refreshed, and rejuvenated, and we strive to provide the highest quality of care in every facet of our practice.
*Individual Results May Vary