DiamondGlow™ Microdermabrasion vs. Genius™ RF Microneedling for Skin Rejuvenation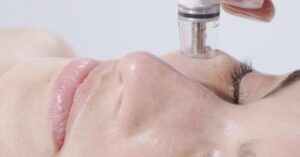 At Aloha Laser Aesthetics, the cosmetic portion of our practice, we offer both DiamondGlow™ microdermabrasion and Genius™ RF microneedling treatments to help patients achieve noticeable improvements in the health and appearance of their skin—but which treatment option is right for you? The most suitable skin rejuvenation approach will depend on both the specific anti-aging and/or skin health concerns you want to address and the outcome you'd ultimately like to achieve.
While both microdermabrasion and RF microneedling treatments are effective for enhancing the condition, tone, texture, health, and appearance of skin, the most distinctive difference is the depth and intensity of treatment each option provides:
DiamondGlow™ microdermabrasion is a totally non-invasive method of skin rejuvenation that focuses mainly on exfoliation of dead skin cells, pore refinement, thorough cleansing, and the infusion of customized treatment serums into the deeper skin to achieve specific skin improvements. As the diamond tip exfoliates along the superficial layer of skin, suction draws out impurities and unclogs pores, and dermal infusion saturates the fresh skin with effective skin treatment solutions. Treatments can be repeated at recommended intervals to achieve maximum improvements and/or maintain results. See our full page on DiamondGlow™ microdermabrasion to learn more about specific treatment benefits.
Genius™ RF microneedling is a more intensive form of skin rejuvenation treatment that combines skin microneedling with the application of radiofrequency (RF) energy through the treatment needles into the deeper layers of skin. While microneedling creates tiny punctures throughout the skin (called "microchannels"), RF energy warms the deeper tissue to further stimulate the skin's natural healing response and initiate skin regeneration and rejuvenation. Genius™ RF microneedling is designed to initiate the formation of new collagen and elastin production during the process of tissue remodeling, thus creating more significant and longer-lasting improvements in skin tone, texture, quality, and appearance than can be achieved with microdermabrasion. See our full page on Genius™ RF microneedling to learn more about specific treatment benefits.
If you are interested in achieving a fresher, smoother, more radiant complexion, our team at Aloha Laser Aesthetics is ready to help! We offer a full spectrum of state-of-the-art skin rejuvenation treatments to help you achieve your skin goals. Contact our office to schedule a consultation where you can discuss your skin concerns and goals and learn more about how Genius™ RF microneedling, DiamondGlow™ microdermabrasion, and other treatments that can give you your most beautiful skin.
Contact Us

For More Information
Email Us
808-792-3937