ALASTIN Skincare®
As an integral part of our cosmetic facial rejuvenation solutions, Aloha Laser Aesthetics offers ALASTIN Skincare®. As one of the most advanced medical-grade skin care lines, ALASTIN Skincare® products offer formulations designed to:
Prepare skin for procedures and enhance receptivity during treatment.
Support the post-treatment healing process to optimize results.
Provide everyday anti-aging protection to maintain beautiful, healthy skin.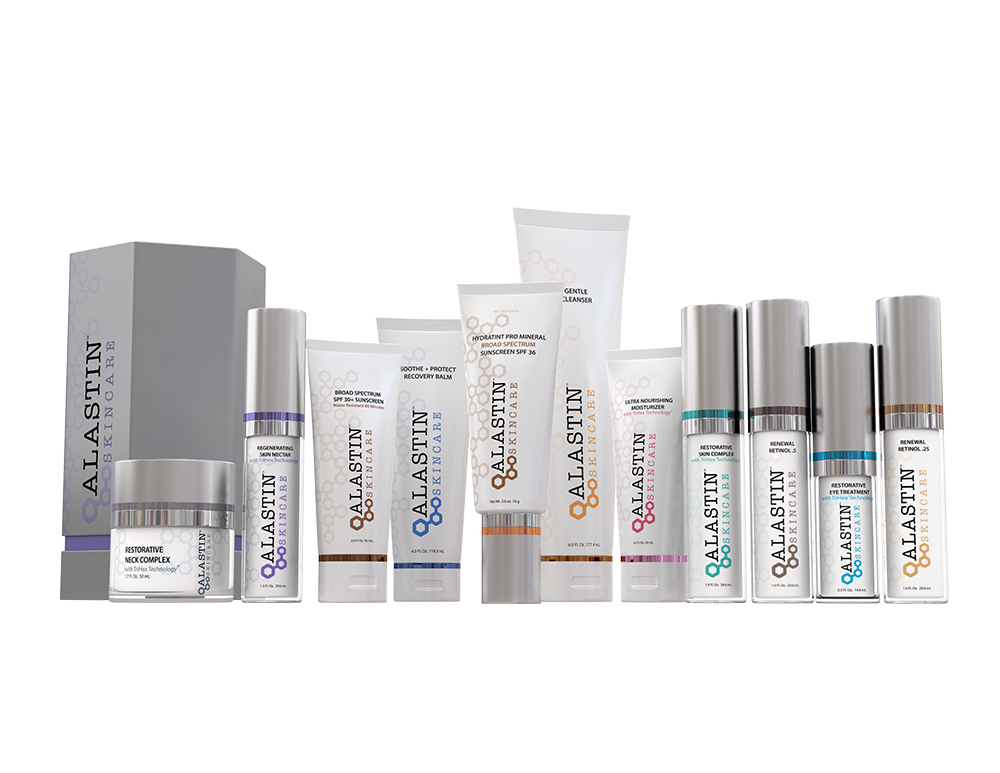 ALASTIN Skincare® products contain proprietary TriHex Technology® and a potent blend of peptides designed to combat signs of aging. These exclusive active components are combined with all-natural skin brighteners, nourishing vitamins, phospholipids, and antioxidants, which deeply penetrate the skin to stimulate, strengthen, and support the skin's regenerative processes. In histological studies, which involve microscopic examination and comparison of skin tissue samples, ALASTIN Skincare® products have been proven to:
Enhance the deposition of both new collagen and elastin fibers to smooth and rejuvenate the skin.
Clear cellular debris to improve overall skin health.
Whether your anti-aging goals include skin health maintenance, minimizing the appearance of facial lines and wrinkles, brightening skin tone, and/or replenishing skin hydration, we offer ALASTIN Skincare® to help you achieve a more vibrant, youthful complexion. Based on an evaluation of your individual skin needs and desires, our skin care professionals will create a customized ALASTIN Skincare® product regimen to achieve your goals.
Shop for ALASTIN Skincare® Products
If you'd like to purchase ALASTIN Skincare® products and have them delivered directly to your home or office, please use the "Shop" button we've provided below to get started.
ROOT OF SKIN™ MD
Healthy skin that looks youthful and vibrant is sustained by a wide array of supportive factors, which unfortunately become limited as we age. To combat these changes, ROOT OF SKIN™ MD products have been expertly formulated with a custom-designed biological complex of revitalizing ingredients called SourceCode Technology™. This potent, proprietary blend developed by AIVITA Biomedical infuses depleted skin to smooth texture and even skin tone while boosting firmness and elasticity. ROOT OF SKIN™ MD products develop a moisture-enhancing barrier that keeps skin hydrated and facilitates deep absorption of active ingredients. In as early as two weeks of regular use, ROOT OF SKIN™ MD products can notably reduce the appearance of fine lines and other visible signs of aging.
What is in ROOT OF SKIN™ MD?
ROOT OF SKIN™ MD anti-aging skin products contain a full spectrum of naturally occurring, skin revitalizing ingredients, including:
Growth factors (derived from skin stem cells, rather than plant cells or other unrelated cell types)
Antioxidants
Hyaluronic acids
Amino acids (unmodified)
Vitamins and minerals
Peptides
Proteins
ROOT OF SKIN™ MD products are scientifically balanced and targeted to support the growth, maintenance, and health of skin cells. This powerful combination of nutrients and key cellular building blocks saturates the skin to create a complex "microenvironment" that supports healthy, youthful skin cells.
ROOT OF SKIN™ MD Facial Serum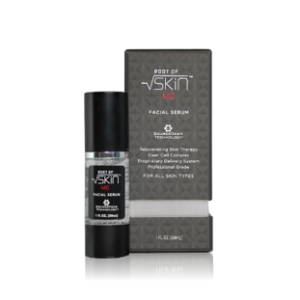 The Facial Serum contains state-of-the-art SourceCode Technology™, which delivers active ingredients deep into the skin to improve skin health and enrich the cells' microenvironment for more youthful-looking skin. This product also protects against environmental damage and boosts moisture by supporting proper function of the skin barrier. Long-acting ROOT OF SKIN™ MD Facial Serum can be used on all skin types and is free of scents, skin irritants, allergens, and sensitizing ingredients.
ROOT OF SKIN™ MD Eye Complex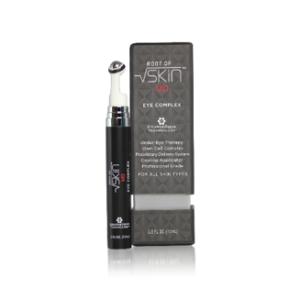 The Eye Complex uses SourceCode Technology™ to deliver active ingredients to the delicate skin under and around the eyes for a firmer, smoother look and feel. Long-acting ROOT OF SKIN™ MD Eye Complex is formulated for all skin types and does not contain scents, irritants, allergens, or sensitizing ingredients.
AlumierMD®
The AlumierMD® line of medical-grade skincare products is formulated using the latest advancements in "Clean Science". Clean Science is a discipline championed by AlumierMD® that is dedicated to utilizing clinically validated ingredients, creating the cleanest formulations, and producing the best possible skin treatment results. The AlumierMD® collection contains daily essentials, moisturizers, sun protection, eye products, cleansers, targeted serums, exfoliants, and post-procedure product formulas, as well as collections specifically designed for acne, skin aging, discoloration, redness, and sensitive skin. Whether you have normal, dry, or combination skin, there are effective AlumierMD® products available that match your skin type and skin needs.
In order to provide consumers with safe, effective, and socially responsible skin care, all AlumierMD® products are:
Clinically tested
Free from 1,300 substances banned by the FDA, EU, & Health Canada
Free of sulfates, artificial fragrances, dyes, parabens, and phthalates
Sustainably sourced
Medical-strength
Formulated with optimal doses of active ingredients
Monitored through rigorous quality control measures at every stage of production
Cruelty-free, microbead-free, and reef safe
If you are interested in learning more about AlumierMD® and want to find out which products are best-suited for achieving your skin goals, please schedule a consultation with one of our experienced aestheticians. You can also conveniently shop for AlumierMD® products through our website.
EltaMD® Sun Care
We encourage our patients to prevent sun damage and protect skin with broad-spectrum facial and body sunscreens from the EltaMD® Sun Care line. Exposure to the sun's UVA and UVB rays is proven to rapidly advance skin aging and cause skin cancer. With EltaMD®  sunscreens, sunlight is reflected and scattered from the skin's surface, preventing the absorption of burn-causing rays. Daily sunscreen use is recommended at all ages and the ingredients in EltaMD® can help ensure that you get the most comprehensive, long-lasting protection possible. We carry a wide variety of EltaMD® sunscreen formulations to suit all skin types.
UPNEEQ®
One of the newest FDA-approved remedies for drooping eyelids, UPNEEQ® can brighten the entire face by helping to keep the eyes looking alert and focused. Made of an oxymetazoline hydrochloride ophthalmic solution and designed to treat acquired blepharoptosis (chronic eyelid drooping), UPNEEQ® is administered via eye drops once daily, and can leave patients with widened, more youthful-looking eyes.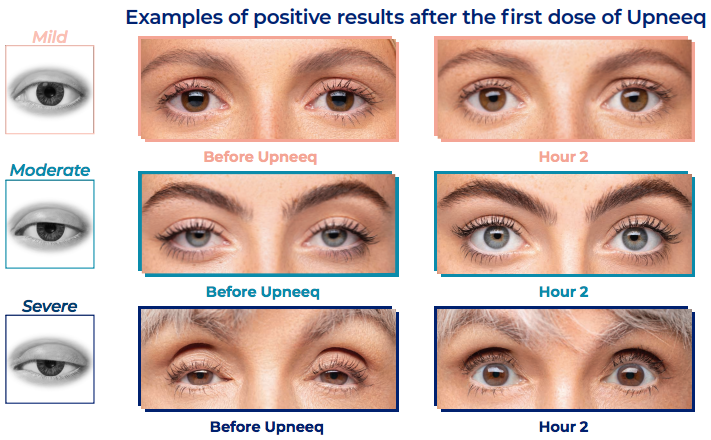 Contact Aloha Laser Vision
To learn more about the advanced skin care product lines we carry at Aloha Laser Vision, please contact us today.
*Individual Results May Vary