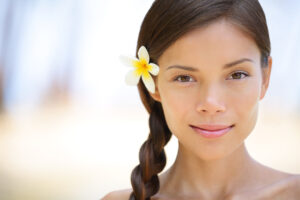 In addition to state-of-the-art eye care and  vision correction procedures, Aloha Laser Vision offers several advanced aesthetic enhancement options. Our cosmetic treatments are focused on enhancing the appearance of the eyes and skin through the use of effective products and advanced cosmetic laser technology.
SculpSure™
The non-surgical, non-invasive SculpSure™ system can diminish stubborn excess fat from many areas of the body using innovative light-based technology. There is no recovery or downtime necessary with SculpSure™, which makes achieving the smooth, lean figure you desire easier than ever.
Advanced Skin Care
Proper skin care is the foundation of beautiful, youthful-looking skin, which is why we offer several top skin care lines at Aloha Laser Vision. Alastin, Provoque, Lumixyl, ClarityMD, EltaMD and ALPHAEON BEAUTY are clinically proven skin care products designed to smooth and deeply hydrate skin to diminish signs of aging and rejuvenate the complexion.
BOTOX® Cosmetic
Injections of BOTOX Cosmetic have the power to dramatically reduce the prominence of facial wrinkles for three to four months or more! Whether you are concerned about creases between the brows, crow's feet, forehead wrinkles, or wrinkles around the mouth, a custom BOTOX Cosmetic treatment plan developed by our experienced injector—Dr. Alan Faulkner—can give you the smooth, youthful skin you desire.
Eyelash Treatments
We offer both FDA-approved LATISSE® and ALPHAEON® BEAUTY Eyelash Serum to help our patients achieve longer, fuller, darker eyelashes. When these treatments are applied daily to the base of eyelashes, most patients experience a noticeable improvement in the appearance of lashes within a couple of months.
Laser Skin Resurfacing
Advanced laser skin resurfacing treatments can be used to tighten, smooth, and rejuvenate the skin for a more youthful appearance.
Laser Hair Removal
The Vectus® laser is dedicated solely to laser hair removal and incorporates state-of-the-art technological advancements. These innovative features make the laser hair removal process faster, more effective, and more comfortable than ever before.
SilkPeel® Skin Rejuvenation
SilkPeel® treatments utilize innovative microdermabrasion techniques and patented Advanced Dermalinfusion Technology to deliver remarkable skin rejuvenating results. SilkPeel® offers customized treatment for an array of skin concerns and has the ability to improve tone and texture among a broad range of skin types.
Skin Tightening with TempSure™ Envi
Non-surgical TempSure™ Envi uses radiofrequency energy to firm and smooth skin. It is great for areas including forehead lines, folds between the eyebrows, crow's feet, nasolabial folds, wrinkles around the mouth, and loose skin around the eyes.
Microneedling
Customized microneedling treatments can stimulate the skin's natural healing response to bring about skin renewal. The rejuvenating effects of microneedling can reduce signs of skin aging, sun damage, acne, stretch marks, scar tissue, and other concerns for smoother skin and a more radiant complexion.
PicoSure®
PicoSure® is a versatile aesthetic picosecond laser that has been proven safe and effective even on darker skintones. For those with hyperpigmentation, sun damage, acne scars, and pigmented lesions, PicoSure®provides an advanced solution for comprehensive skin rejuvenation.
*Individual Results May Vary