What Is EMSCULPT NEO®?

EMSCULPT NEO is a groundbreaking aesthetic body sculpting technique. This new system is the first to use HIFEM waves for cosmetic muscle sculpting, making its 2019 release a milestone in the field. Amazingly, EMSCULPT NEO can reduce significant amounts of isolated fat while simultaneously creating muscle mass, helping you achieve a toned, healthy figure without the hassle of surgery or endless dieting. 
At Aloha Laser Vision, our patients are consistently thrilled with their sculpted figures after undergoing the EMSCULPT NEO procedure. Using both radiofrequency (RF) and high intensity electromagnetic (HIFEM) waves to destroy fat cells and sculpt muscle, EMSCULPT NEO's breathtaking results can last for years.
What Are the Benefits of EMSCULPT NEO®?
A body contouring solution unlike any other, EMSCULPT NEO's unique treatment offers numerous benefits:
Unwanted fat can be removed or reduced significantly 
Muscles can be strengthened and contoured
The procedure rarely exceeds 30 minutes in length 
No incisions or anesthesia are needed
Little to no recovery time is warranted
What Areas Can EMSCULPT NEO® Treat?
Patients can experience up to approximately 30% of fat reduction and a 25% increase in muscle mass in the following areas:
Abdomen
Buttocks
Back
Arms
Legs
Calves
What Can I Expect During EMSCULPT NEO® Treatment?
During the procedure, the applicator is placed upon the treatment area. The HIFEM energy causes the muscles to contract even more intensely than they would during an extreme ab workout. At the same time, the RF energy destroys fat cells, which the body then disposes of naturally following the procedure. Patients do not often feel any discomfort during the procedure, and are usually able to return to work or other daily activities immediately.
We typically recommend four treatment sessions to achieve optimal EMSCULPT NEO results. 
What Results Can I Expect After EMSCULPT NEO®?
The results of treatment should become apparent within three months. Because fat cells do not grow back, the fat reduction will be permanent; however, in the event of drastic weight gain, remaining fat cells can expand. For this reason, we recommend adopting a healthy lifestyle following treatment, as regular healthy eating and exercise can keep unwanted fat away.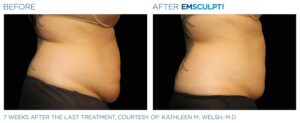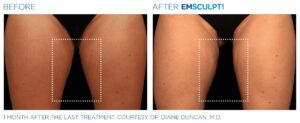 Side effects for EMSCULPT NEO may include swelling, redness, soreness, or numbness, but these should subside quickly.
How Much Does EMSCULPT NEO® Cost?
At Aloha Laser Vision, your initial EMSCULPT NEO treatment will cost $1,000, and discounts are offered for additional sessions for the same treatment area. Because we customize each procedure to meet your individual needs, the final price can sometimes vary. Please join us for a consultation in which we can discuss a plan and answer any financial questions you may have.
In addition, we feature special packages throughout the year that often include EMSCULPT NEO sessions or discounts. We encourage you to check our seasonal specials periodically to take advantage of these valuable offers.
For more information about EMSCULPT NEO or any of our other body contouring solutions, please contact us today.
*Individual Results May Vary