Dr. Jordan Schmerbauch, Optometrist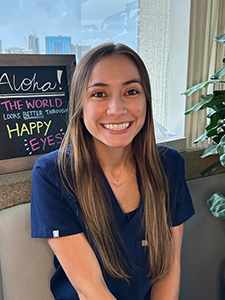 Jordan Schmerbauch, OD grew up in Hawaii and graduated from Mililani High School. She received her Bachelor of Science degree from Pacific University in Forest Grove, Oregon. Wanting to stay in the Pacific Northwest, she continued her education at Pacific University and received her Doctorate of Optometry with honors. During schooling, she completed rotations in different specialities (including refractive surgery, binocular vision, and ocular disease), allowing her to establish a well-rounded clinical background.
After graduation, Dr. Jordan moved back home to Hawaii to start her career. She worked on the Big Island and Oahu for a few years before joining us here at Aloha Laser Vision. She is currently a member of the Hawaii Optometric Association and American Optometric Association.
Dr. Jordan is excited to be a part of Aloha Laser Vision, helping to examine patients' eyes, diagnose eye conditions, and recommend the most appropriate treatments. She was drawn to our practice values and emphasis on quality patient care. During her free time, she likes to spend time with family, travel, and read new books.
To schedule a first-time appointment or learn more about our practice, we invite you to contact Aloha Laser Vision today.
*Individual Results May Vary