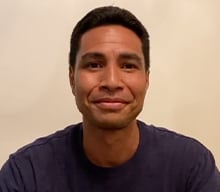 Our featured LASIK patient, Kea D., is a 39-year-old firefighter, father of four, and the winner of our "Not All Heroes Wear Capes" LASIK giveback! Kea started considering laser refractive surgery soon after he became a firefighter, as the routine of putting in his contacts before nighttime emergency calls became an inconvenient time liability. He also didn't enjoy wearing glasses underneath his firefighting goggles—they fogged up easily, felt uncomfortable, and compromised his vision when he needed it most.
Kea contacted Aloha Laser Vision about improving his vision with LASIK surgery in March 2020, just as the COVID-19 stay-at-home order took effect. In order to accommodate Kea's inquiry, Dr. Neda Nikpoor conducted his virtual consultation via videoconference software. During the consultation, Dr. Nikpoor reviewed the different refractive procedures that were available and recommended options that would align with his needs, goals, and lifestyle. At the end of the consultation, Kea made the decision to schedule his LASIK procedure.
As Kea waited for his surgery date, the team at Aloha Laser Vision began discussing ways they could give back to the community that would emphasize ALV's gratitude for healthcare heroes and first responders during this difficult time. As a result, ALV started the "Not All Heroes Wear Capes" campaign on Instagram, asking the community to nominate healthcare heroes and first responders that they felt could really benefit from having vision correction. While the team received many wonderful nominations from the community during the course of the promotion, it was a heartwarming submission from Kea's wife detailing his story that solidified him as the winner of the free LASIK grand prize. The ALV team found Kea's story relatable and fitting for the theme of the campaign, but most of all Kea's overall positive and uplifting attitude made a strong impression on everyone he interacted with.
Today, Kea enjoys clear vision without the need for glasses or contacts. He is grateful for his outstanding experience at Aloha Laser Vision and the generous gift he was given through the "Not All Heroes Wear Capes" LASIK giveback. In describing his experience at ALV, Kea explains that he was treated like family, received phenomenal care, and had all of his many questions answered fully—the whole team helped him feel at ease.
We invite you to watch Kea D.'s full story captured on video!
If you are considering LASIK or another type of advanced vision correction surgery, we welcome you to contact Aloha Laser Vision today to schedule a consultation!
Contact Us

For More Information
Email Us
808-792-3937