Featured Light Adjustable Lens (LAL) Patient Val M. Shares His Story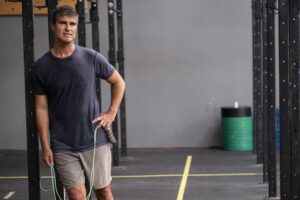 This is a first-person account of Val M.'s RxSight™ Light Adjustable Lens (LAL) implant experience:
I consider myself an active outdoors person and especially an avid surfer. I'm a retired firefighter who spent 29 years on the job. I was born and raised in Honolulu.
I did a lot of reading without glasses in my 30's, and I finally got reading glasses when I turned 41. I ended up using glasses daily for almost 10 years. At first I wore them only for reading, but eventually I started wearing bifocals and had my glasses on every waking moment. I noticed my eyesight was worsening throughout my forties, and the prescription glasses I required got stronger every other year. Without glasses I couldn't read a shampoo bottle in the shower, I couldn't open a combination lock, and I couldn't see the dashboard of the car. I can now see clearly without glasses in all of these situations, thanks to my corrective vision surgery.
There are a few reasons why I had the surgery. Eyeglasses are an appendage. At times, they are more important than an arm or a leg. It was hard to do many things without my glasses. If I could get rid of my glasses without losing eyesight, that would be amazing. Plus, glasses leave indentations on the bridge of my nose. The first thing that really motivated me to get rid of my glasses was joining CrossFit. There's no way that I could keep up with the daily CrossFit exercises while wearing glasses. The bike and row machines have time keepers and calorie screens on them and I would need to wear my glasses to know when to stop. Additionally, I would have to immediately get off the bike and do burpees or some other head moving exercise that was not friendly to wearing glasses. When it was time to go back on the bike, I'd need to find the glasses again. It was frustrating. Interestingly, I had no problem surfing without glasses, so my surfing played no part in my decision to have the surgery.
Another reason I wanted to get rid of my glasses was so that I could travel. I have plans to visit remote areas where the environment may not be conducive to putting in contact lenses, or I may be concerned about losing or breaking my glasses. I had the option of wearing contact lenses, but that requires a lot of prep and extremely sanitary conditions—not to mention purchasing and carrying around the contact lenses and solution. I'm just not a contact lens guy.
When I retired, I looked into my vision correction options. The name Faulkner has been synonymous with eye care for many years in Hawaii. I felt comfortable with Aloha Laser Vision. I was also pleasantly surprised to see that Aloha Laser Vision worked with a couple finance companies who offered 0% interest if paid within 24 months. I took advantage of this, and said— "let's do it!" My experience at Aloha Laser Vision was a positive one from the moment I first arrived for my evaluation. My pre-surgery vision was examined non-stop for over 2 hours, utilizing various eye examining machines. I was impressed at the amount of time spent with me on that initial visit, since there was no obligation and no charge. At the end of the visit, the doctor came in and gave me my options. In the past, my experience with doctors usually feels rushed and the doctor does most of the talking. With Dr. Neda Nikpoor, it was completely the opposite, and I always felt at ease. Dr. Nikpoor really listens.
My surgery consisted of removing my natural eye lenses and replacing them with a light adjustable intraocular lens (LAL) implant, which would be adjusted using ultraviolet light three to five weeks after they were implanted.
One of the challenges with my procedure was the constant application of eye drops. A week prior to my procedure, I had to drop medication in both eyes plus lubricating drops multiple times a day. After my procedure, I continued to use anti-inflammatory drops and lubricating drops for another five weeks, multiple times a day. I learned how important it is that the eye drops are applied. I used my phone to set alarm reminders.
Overall, I am happy I chose to have vision correction surgery. A week after my surgery, my glasses were no longer needed and were basically useless to me. I didn't need them anymore! One less thing to worry about. CrossFit has become enjoyable again. When someone looks at me, they see me, not someone behind glasses. No more body wash as shampoo. No more foggy glasses from wearing a mask.
If you are interested in learning more about Light Adjustable Lens (LAL) implant or the other vision correction procedures we offer at Aloha Laser Vision, please contact us to schedule your consultation.
Contact Us

For More Information
Email Us
808-792-3937