Featured Light Adjustable Lens (LAL) Patient Val M. Shares His Story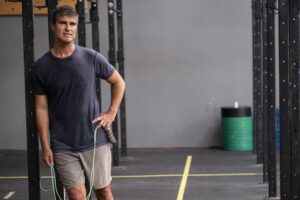 This is an account of Val M.'s RxSight™ Light Adjustable Lens (LAL) implant experience:
Val considers himself to be an active outdoors person and especially an avid surfer. He was born and raised in Honolulu, and is a retired firefighter who spent 29 years on the job.
Val did a lot of reading without glasses in his 30's, and finally got reading glasses when he turned 41. He ended up using glasses daily for almost 10 years. At first, he wore them only for reading, but eventually he started wearing bifocals and had his glasses on every waking moment. He noticed his eyesight worsening throughout his forties, and the prescription glasses he required got stronger every other year. Without glasses he couldn't read a shampoo bottle in the shower, couldn't open a combination lock, and couldn't see the dashboard of the car. He can now see clearly without glasses in all of these situations, thanks to his recent corrective vision surgery.
There are a few reasons why Val chose to have the surgery. He felt his eyeglasses had become an appendage. At times, they were more important to him than an arm or a leg. It was hard for him to do many things without his glasses and they would leave uncomfortable indentations on the bridge of his nose. He wanted to be able to get rid of his glasses without losing his eyesight, but wasn't sure how.
Val's main motivation for finally getting rid of his glasses was joining CrossFit®. He couldn't keep up with the daily CrossFit exercises while wearing glasses. In order to see the screens on the bikes and row machines and know when to stop, Val would need to wear his glasses. Additionally, he would often be required to quickly transition from the bike to burpees or other vigorous exercises that were not easy to complete while wearing glasses. Then, when it was time to go back on the bike, he'd need to find his glasses again. This process was very frustrating for Val. Interestingly, he reported that he had no problem surfing without glasses, so his surfing played no part in his decision to have the surgery.
Another reason Val wanted to get rid of his glasses was traveling. He often plans trips to remote areas where the environment is not conducive to putting in contact lenses or traveling with glasses. While wearing contact lenses was an option for Val, contacts require a lot of prep, additional toiletries, and extremely sanitary conditions—and he just didn't consider himself a "contact lens guy."
When Val retired, he decided to look into his vision correction options. Since the name Faulkner has been synonymous with eye care for many years in Hawaii, Val felt comfortable with choosing Aloha Laser Vision for his care. He was pleasantly surprised to learn that Aloha Laser Vision works with a couple of finance companies that offer 0% interest loans to qualified applicants if the balance is paid within 24 months. Once Val was approved for financing, he was ready to move forward with surgery!
Val explains that his experience at Aloha Laser Vision was a positive one from the moment he first arrived for his evaluation. Pre-surgery, his vision was examined for over two hours with various state-of-the-art diagnostic machines. He was impressed by the amount of time the team spent with him during his initial visit since there was no obligation and no charge for the appointment. At the end of the visit, his doctor came in and presented his treatment options. While Val's typical experiences with doctors are rushed and don't provide much time for questions, his appointments with Dr. Neda Nikpoor were completely the opposite. She always helped him feel at ease and really listened to the things he had to say.
Val's surgery consisted of removing his natural eye lenses and replacing them with light adjustable intraocular lens (LAL) implants, which were adjusted using ultraviolet light three to five weeks after implantation.
One of the challenges Val had with his procedure was the "constant" application of eye drops. A week prior to his procedure, he was instructed to drop medication in both eyes plus lubricating drops multiple times a day. After his procedure, he continued to use anti-inflammatory drops and lubricating drops for another five weeks, multiple times a day. Though he found the eye drop schedule a bit bothersome, he understood how important it is to apply them as directed and used his phone to set alarm reminders.
Overall, Val is happy he chose to have vision correction surgery. A week after his surgery, his glasses were no longer needed! CrossFit became enjoyable for him again. He also likes the fact that when someone looks at him, they see his face rather than someone behind glasses. He no longer accidentally uses body wash as shampoo in the shower. And best of all, he doesn't have to deal with foggy glasses from wearing a mask.
If you are interested in learning more about Light Adjustable Lens (LAL) implant or the other vision correction procedures we offer at Aloha Laser Vision, please contact us to schedule your consultation.
Contact Us

For More Information
Email Us
808-792-3937