Dr. Alan Faulkner Named OSN Premier Surgeon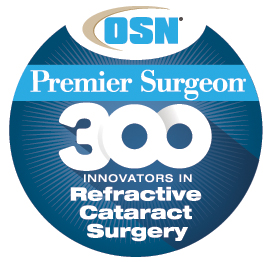 We are proud to announce that Aloha Laser Vision's founder and lead surgeon Alan Faulkner, MD has been recognized as a Premier Surgeon by Ocular Surgery News (OSN), a print and online publication dedicated to providing first-rate information to ophthalmic professionals worldwide. Dr. Faulkner is the only surgeon to make the list from Hawaii.
Ocular Surgery News recently released its Premier Surgeon 300 list, which names 300 of the nation's top refractive cataract surgeons. The surgeons chosen stand out as leading educators, innovators, or prolific surgical practitioners who have helped advance the field of premium refractive cataract surgery. The list was composed by the editors and publisher of OSN who compiled the exclusive lineup based on their extensive knowledge and experience with these surgeons. It is their hope that the Premier Surgeon 300 list initiates a fruitful dialogue among ophthalmic professionals that furthers the discussion about the ongoing evolution of refractive cataract surgery.
We invite you to learn more about the many cataract and vision correction procedures that Dr. Faulkner and our eye surgeons perform at Aloha Laser Vision. If you are interested in finding out more about a particular procedure, we encourage you to contact our office to schedule a consultation.
Contact Us

For More Information
Email Us
808-792-3937