The Eye Doctors of Aloha Laser Vision Attend STAAR Surgical Conference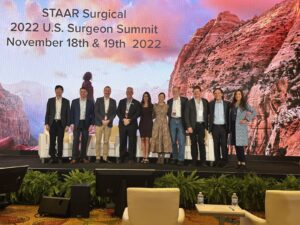 Our Honolulu eye doctors, Neda Nikpoor, M.D. and Alan Faulkner, M.D., recently made a trip to the mainland to attend a national conference of eye surgeons in San Antonio, Texas. The conference was facilitated by STAAR Surgical, the internationally-renowned manufacturer behind the EVO ICL™.
During the visit to Texas, Dr. Nikpoor visited Parkhurst NuVision, a prestigious EVO ICL™ practice, to collaborate on the latest technology and innovations in eye surgery. Like Dr. Parkhurst, both of our eye doctors are members of the RSA (Refractive Surgery Alliance) and are mission-focused through their efforts with the Himalayan Cataract Project, an organization that works to provide eye care to various parts of Asia and Africa. Dr. Nikpoor, Dr. Faulkner, and Dr. Parkhurst served as panelists at the event, where they shared their profound knowledge and surgical experience with other eye care professionals.
Approved by the FDA in March 2022, the EVO ICL™ has received acclaim for its ability to non-surgically ease myopia (or nearsightedness) with or without astigmatism, making it a coveted alternative to LASIK surgery. Our ophthalmologists have each collaborated previously with STAAR Surgical to introduce the EVO ICL™ to Hawaii, with Dr. Nikpoor having implanted the first EVO ICL™ in the state and Dr. Faulkner having taken part in its FDA study.
Dr. Faulkner and Dr. Nikpoor are thrilled to have taken part in this special event and grateful to STAAR Surgical for the opportunity to help free the world of dependence on glasses and contact lenses. For more information about our doctors and practice, we welcome you to contact Aloha Laser Vision today.
Contact Us

For More Information
Email Us
808-792-3937