Honolulu Eye Doctor Explains Gravity of Poor Contact Lens Hygiene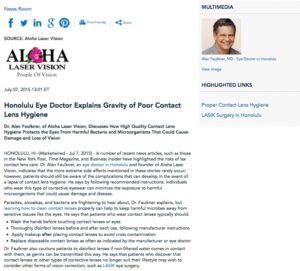 Dr. Alan Faulkner, of Aloha Laser Vision, discusses how high quality contact lens hygiene protects the eyes from harmful bacteria and microorganisms that could cause damage and loss of vision.
Honolulu, HI—A number of recent news articles, such as those in the New York Post, Time Magazine, and Business Insider have highlighted the risks of lax contact lens care. Dr. Alan Faulkner, an eye doctor in Honolulu and founder of Aloha Laser Vision, indicates that the more extreme side effects mentioned in these stories rarely occur; however, patients should still be aware of the complications that can develop in the event of a lapse of contact lens hygiene. He says by following recommended instructions, individuals who wear this type of corrective eyewear can minimize the exposure to harmful microorganisms that could cause damage and disease.
Parasites, amoebas, and bacteria are frightening to hear about, Dr. Faulkner explains, but learning how to clean contact lenses properly can help to keep harmful microbes away from sensitive tissues like the eyes. He says that patients who wear contact lenses typically should:
Wash the hands before touching contact lenses or eyes
Thoroughly disinfect lenses before and after each use, following manufacturer instructions
Apply makeup after placing contact lenses to avoid cross contamination
Replace disposable contact lenses as often as indicated by the manufacturer or eye doctor
Dr. Faulkner also cautions patients to disinfect lenses if non-filtered water comes in contact with them, as germs can be transmitted this way. He says that patients who discover that contact lenses or other types of corrective lenses no longer suit their lifestyle may wish to consider other forms of vision correction, such as LASIK eye surgery.
Ultimately, Dr. Faulkner wishes to help patients protect their health and eyesight by offering an informative resource on how to care for contact lenses and providing a comprehensive selection of innovative options to achieve optimal visual acuity. He says with advances in laser technology, most individuals are qualified for laser vision correction, which can potentially eliminate the need for corrective lenses, and contact lens hygiene, entirely.
About Alan Faulkner, MD
Dr. Faulkner attended Northwestern University, where he earned his undergraduate degree, and Tulane Medical School, where he received his medical degree and was elected to the Alpha Omega Alpha Honor Society. Following graduation, he completed additional training in Internal Medicine and Ophthalmology, followed by a Fellowship in Oculoplastics, Ocular Oncology, and Orbital Disease. In 2001 he founded Aloha Laser Vision, LLC, and he has served in leadership positions at several prestigious hospitals. Dr. Faulkner is certified by the American Board of Ophthalmology. He is available for interview upon request.
For more information about Dr. Faulkner and his practice, please visit alohalaservision.com and facebook.com/alohalaservision.
Contact:
Aloha Laser Vision
1100 Ward Ave., Ste. 1000
Honolulu, Hawaii 96814
(808) 972-3937
Rosemont Media
(858) 200-0044
www.rosemontmedia.com