LASIK Surgeon in Honolulu One of the First in Hawaii to Offer Contoura Vision™ Topography-Guided Laser Vision Correction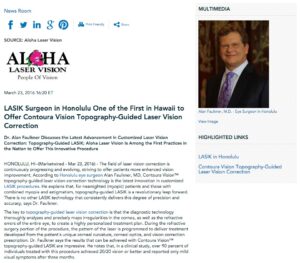 Dr. Alan Faulkner discusses the latest advancement in customized laser vision correction: topography-guided LASIK. Aloha Laser Vision is among the first practices in the nation to offer this innovative procedure.
Honolulu, HI – The field of laser vision correction is continuously progressing and evolving, striving to offer patients more enhanced vision improvement. According to Honolulu eye surgeon Alan Faulkner, MD, Contoura Vision™ topography-guided laser vision correction technology is the latest innovation in customized LASIK procedures. He explains that, for nearsighted (myopic) patients and those with combined myopia and astigmatism, topography-guided LASIK is a revolutionary leap forward. There is no other LASIK technology that consistently delivers this degree of precision and accuracy, says Dr. Faulkner.
The key to topography-guided laser vision correction is that the diagnostic technology thoroughly analyzes and precisely maps irregularities in the cornea, as well as the refractive errors of the entire eye, to create a highly personalized treatment plan. During the refractive surgery portion of the procedure, the pattern of the laser is programmed to deliver treatment developed from the patient's unique corneal curvature, corneal optics, and vision correction prescription. Dr. Faulkner says the results that can be achieved with Contoura Vision™ topography-guided LASIK are impressive. He notes that, in a clinical study, over 90 percent of individuals treated with this procedure achieved 20/20 vision or better and reported only mild visual symptoms after three months.
Contoura Vision™ topography-guided laser vision correction technology has recently been FDA-approved and only a small number of eye surgeons in the nation have had the opportunity to undergo training to perform the procedure. Dr. Faulkner was among this group and says he is thrilled to be bringing his knowledge and this state-of-the-art technology to the people of Hawaii. He points out that topography-guided LASIK is not for everyone, and it is important for those interested in the procedure to undergo a thorough a comprehensive visual exam from an experienced ophthalmologist in order to determine candidacy.
About Alan Faulkner, MD
Dr. Alan Faulkner is the lead eye surgeon and founder of Aloha Laser Vision. After earning his Bachelor's Degree from Northwestern University, Dr. Faulkner attended Tulane Medical School, graduating with his Medical Degree in 1996. At Tulane, he went on to complete an internship in Internal Medicine, residency in Ophthalmology, and a fellowship in Oculoplastics, Ocular Oncology and Orbital Disease. Dr. Faulkner founded Aloha Laser Vision in 2001 and has developed the practice into an established, state-of-the-art laser vision correction center. Dr. Faulkner is a member of several professional associations and organizations, including the American Academy of Ophthalmology, American Society of Cataract and Refractive Surgeons, and many others. He is available for interview upon request.
For more information about Dr. Faulkner and his practice, please visit alohalaservision.com and facebook.com/alohalaservision.
Contact:
Aloha Laser Vision
1100 Ward Ave., Ste. 1000
Honolulu, Hawaii 96814
(808) 972-3937
Rosemont Media
(858) 200-0044
www.rosemontmedia.com