At Aloha Laser Aesthetics, we go beyond LASIK and traditional eye care solutions. Our team recognizes the demand for cosmetic skin treatments that enhance the facial appearance, which is why we are pleased to offer a variety of laser treatments to improve both the look and texture of your skin. We are skilled at performing such procedures as skin revitalization with ICON™. For details on what this treatment can do for your skin, feel free to browse the information provided below.
If you would like to schedule a consultation to discuss how our laser skin treatments can address your individual concerns, please contact us to set up an appointment.
What is ICON™ Laser Skin Resurfacing?
While we love the sunny weather and outdoor lifestyle we enjoy here in Hawaii, unprotected sun exposure can take a toll on the skin's appearance. To help our patients combat visible skin concerns that can result from a combination of sun exposure, aging, hormonal fluctuations, and other factors, we chose the FDA-approved Cynosure ICON™ laser. The ICON™ is a versatile laser system that uses next-generation optimized pulsed light technology to provide outstanding skin revitalizing results for all skin tones. A more youthful, even, glowing complexion is as simple as just a few short ICON™ treatments. ICON™ is effective for treating all of the following skin concerns:
Hyperpigmentation
Fine lines and wrinkles
Broken capillaries and spider veins
Redness
Rosacea
Age spots
Freckles
Birthmarks
Unwanted hair
Scarring and stretch marks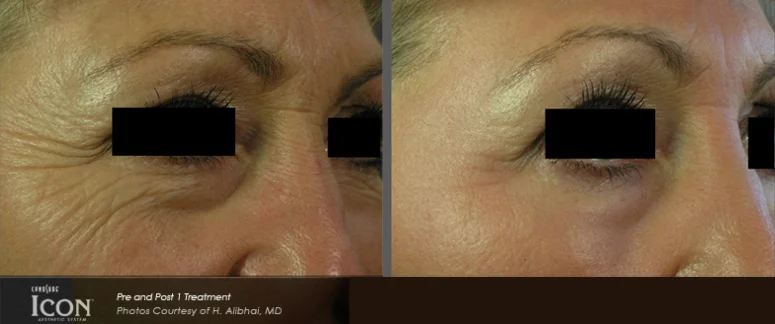 What are the Benefits of ICON™ Laser Skin Resurfacing?
Compared to other aesthetic lasers designed for skin rejuvenation, ICON™ offers a long list of advantages that make it a superior choice for many individuals seeking younger looking skin. Treatment with ICON™ is:
Non-surgical and minimally-invasive
Fully customizeable
Designed for the face, chest, and hands
Safe and effective for darker skintones
Quick, with sessions typically lasting less than 30 minutes
Ideal for treating sun-exposed skin
Additionally, most patients describe treatment as virtually painless, with only brief moments of mild discomfort in some instances. Once the session is complete, it is typically safe to resume normal activities immediately if desired.
ICON™ Laser Skin Resurfacing Treatment
Before treatment with the ICON™, topical anesthetic is placed the skin for comfort when the laser energy is applied. Depending on your skin tone and the type of skin conditions being treated, Dr. Faulkner will select the appropriate settings for the laser and proceed with treatment of the targeted area. The ICON™ handpiece is moved over the skin's surface carefully for even application of laser energy, and additional attention is paid to areas that require more intensive treatment. Once the designated area has been thoroughly treated, your skin will be covered with a soothing ointment that aids in the healing process.
ICON™ Laser Skin Resurfacing Side-Effects
Compared with ablative skin resurfacing lasers, the fractional ICON™ laser is less likely to produce side-effects. Patients with darker skin tones can feel confident about their treatment as the ICON™ laser is considered to be safe for all skin tones. Based on the nature and intensity of your treatment plan, Dr. Faulkner will thoroughly discuss potential side-effects you should be aware of. It is important to note that Dr. Faulkner's extensive training with the ICON™ laser, treatment expertise, and experience using aesthetic lasers of many types helps reduce the occurrence of problematic side-effects. We also emphasize that proper post-treatment care is vital to delivering optimal results.
ICON™ Laser Skin Resurfacing Recovery
Recovery time can vary from patient to patient. Some individuals are able to return to their usual activities immediately, while others who receive deeper, more intensive treatment may choose to relax for the first couple days. Immediately following treatment, it is common to experience the sensation of a mild sunburn. Some slight swelling and a pinkish hue make take a few days to resolve. The treated skin will renew over the course of a few weeks, shedding the darker pigment to reveal fresh, glowing, beautiful skin. Dr. Faulkner can inform you about the healing process you should expect based on the specific details of your ICON™ laser treatment plan.
Skin Care after ICON™ Laser Skin Resurfacing
Proper skin care is crucial after your ICON™ laser treatment. It is strongly recommended that you apply a broad spectrum sunscreen with at least a 30 SPF daily, both during healing and for months after—this is a must to protect your sensitive new skin from sun exposure. Based on the details of your treatment, Dr. Faulkner may recommend other specific skin care products for moisturizing and caring for your skin during the healing process and beyond.
Cost of ICON™ Laser Skin Resurfacing
Each ICON™ laser treatment plan is highly customized to suit the skin needs and goals of the patient. Treatment intensity, complexity, repetition, and the surface area covered can all impact the total price for the procedure, though pricing mainly depends upon the area treated with the laser. We offer discounted package prices for multiple treatments, which can save you money on each session. If you'd like to find out exactly how much treatment will cost for you, we encourage you to schedule a consultation. During this appointment, you will be able to receive an estimate for your proposed treatment plan. You can also learn more about our accepted payment methods and the financing options we offer through third-party companies that can help make the cost of care more convenient and affordable.
ICON™ Laser Hair Removal
We also offer effective hair removal treatments with the ICON™ laser. When applied to the treatment area for hair reduction, ICON™'s laser energy can target the hair follicle to damage the hair bulb and hair bulge, leaving the surrounding tissue unharmed. Once the hair bulb has been disrupted by the laser, hair should become lighter, thinner, and slower to grow. It is possible for treatment of this kind to yield permanent hair reduction. Repeated sessions may be recommended to help achieve optimal hair reduction results
The ICON™ laser can be used to effectively reduce hair almost anywhere on the body and face for all skin types. The state-of-the-art ICON™ laser was developed with comfort in mind and most patients report that both laser hair reduction treatment and the brief recovery process (typically lasting a couple of hours to a day) are very manageable. The results we have been able to achieve at Aloha Laser Aesthetics are consistently excellent and many of our patients recommend ICON™ laser hair removal treatments to their friends and family.
Contact Our Practice
If you are interested in learning more about how the ICON™ laser can improve the appearance of your skin, we encourage you to contact Aloha Laser Aesthetics to schedule a consultation.
*Individual Results May Vary