TEOXANE Cosmeceuticals
Lumixyl
ClarityMD
EltaMD
ALPHAEON BEAUTY
TEOXANE Cosmeceuticals
As part of our cosmetic facial rejuvenation solutions, Aloha Laser Vision offers the advanced skin care line from TEOXANE Cosmeceuticals. These hyaluronic acid-based products are clinically proven to restore volume and hydrate the skin, while reducing signs of aging for a more youthful complexion. Unlike other hyaluronic acid-based products, TEOXANE products are composed of a unique formula known as Resilient Hyaluronic Acid (RHA™). This specialized RHA™ component can create a protective barrier on the skin as it moisturizes throughout the day or night, ultimately helping to diminish signs of age.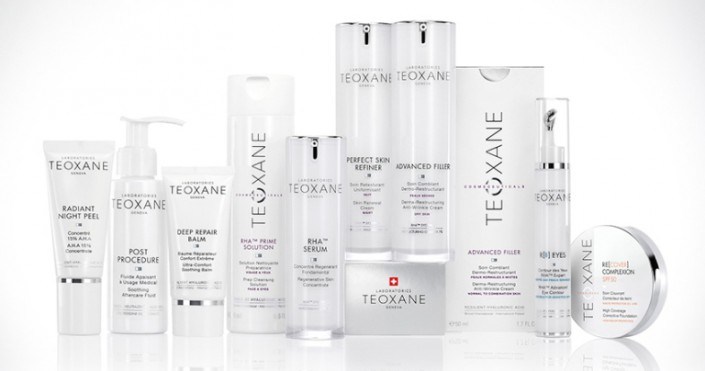 Whether you are interested in maintaining a healthy glow for your skin, or minimizing the appearance of facial lines and wrinkles, we offer the TEOXANE line of products to help you achieve the vibrant, youthful complexion you desire. The unique blend of antioxidants, amino acids, vitamins, and minerals in TEOXANE provide a natural, restorative treatment for the skin. Based on your individual needs, we can recommend the best TEOXANE product to help you reach your aesthetic goals.
ClarityMD™ Acne Solution
The two-step ClarityMD™ acne system helps clear skin with a patent-pending formula of active botanicals and salicylic acid. ClarityMD™ is a dynamic product that quickly addresses several key causes of acne with the help of naturally derived bakuchiol, a compound similar to retinol that lacks many of its harsh side-effects. With twice daily use, the ClarityMD™ Deep Pore Cleanser and Clarifying Serum can provide the following benefits to skin:
Reduces redness and swelling

Unclogs pores

Kills bacteria

Reduces oil

Reduces post-inflammatory hyperpigmentation
ClarityMD™ can produce fast results and works to maintain the health of skin by clearing active acne lesions and preventing future
Lumixyl® Topical Brightening Treatment
For the effective treatment of unwanted skin discoloration caused by sun exposure, skin damage, hormone changes, and other factors, we offer Lumixyl® Topical Brightening Treatment. The physician-grade Lumixyl® Topical Brightening Treatment uses innovative skin brightening science to help you achieve brighter, more even skin tone. The products that comprise the Lumixyl® Topical Brightening Treatment system include active ingredients that can combat existing hyperpigmentation and prevent the formation of new hyperpigmentation. In four simple steps, the skin can be cleansed, brightened, exfoliated, and protected, delivering healthier, more vibrant skin that should continue to improve with regular use.
eltaMD® Sun Care
We encourage our patients to prevent sun damage and protect skin with broad-spectrum facial and body sunscreens from the eltaMD® Sun Care line. Exposure to the sun's UVA and UVB rays is proven to rapidly advance skin aging and cause skin cancer. With eltaMD®  sunscreens, sunlight is reflected and scattered from the skin's surface, preventing the absorption of burn-causing rays. Daily sunscreen use is recommended at all ages and the ingredients in eltaMD® can help ensure that you get the most comprehensive, long-lasting protection possible. We carry a wide variety of eltaMD® sunscreen formulations to suit all skin types.
To learn more about the advanced skin care product lines we carry at Aloha Laser Vision, please contact us today.