ALASTIN Skincare®
As an integral part of our cosmetic facial rejuvenation solutions, Aloha Laser Aesthetics offers ALASTIN Skincare®. As one of the most advanced medical-grade skin care lines, ALASTIN Skincare® products offer formulations designed to:
Prepare skin for procedures and enhance receptivity during treatment.
Support the post-treatment healing process to optimize results.
Provide everyday anti-aging protection to maintain beautiful, healthy skin.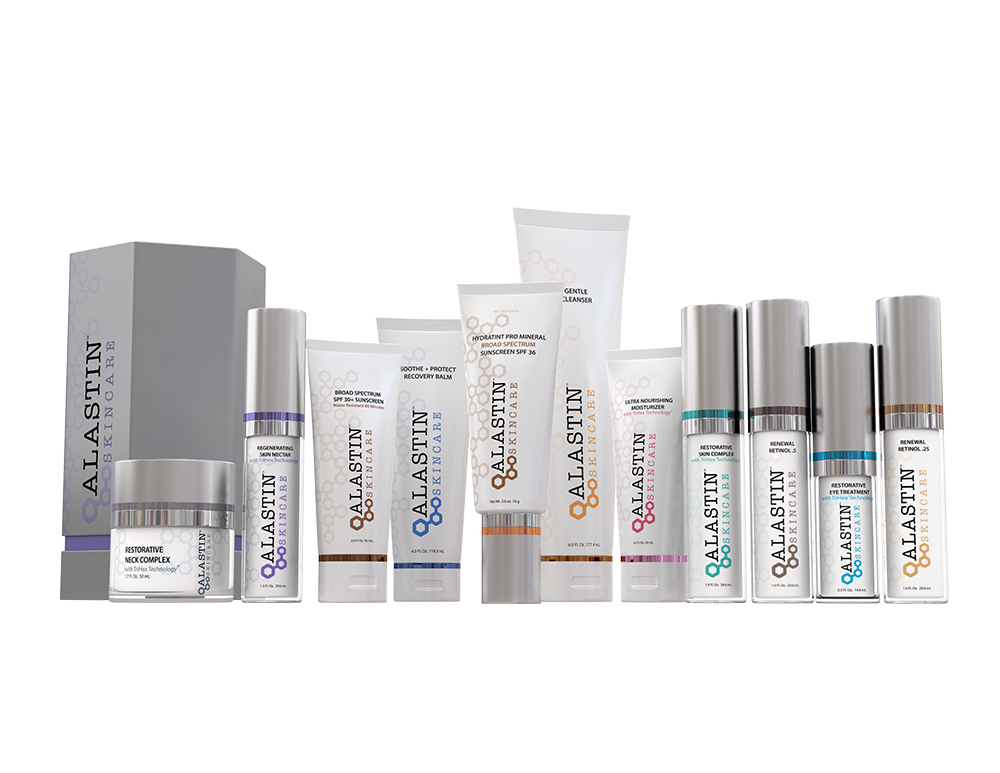 ALASTIN Skincare® products contain proprietary TriHex Technology® and a potent blend of peptides designed to combat signs of aging. These exclusive active components are combined with all-natural skin brighteners, nourishing vitamins, phospholipids, and antioxidants, which deeply penetrate the skin to stimulate, strengthen, and support the skin's regenerative processes. In histological studies, which involve microscopic examination and comparison of skin tissue samples, ALASTIN Skincare® products have been proven to:
Enhance the deposition of both new collagen and elastin fibers to smooth and rejuvenate the skin.
Clear cellular debris to improve overall skin health.
Whether your anti-aging goals include skin health maintenance, minimizing the appearance of facial lines and wrinkles, brightening skin tone, and/or replenishing skin hydration, we offer ALASTIN Skincare® to help you achieve a more vibrant, youthful complexion. Based on an evaluation of your individual skin needs and desires, our skin care professionals will create a customized ALASTIN Skincare® product regimen to achieve your goals.
Shop for ALASTIN Skincare® Products
If you'd like to purchase ALASTIN Skincare® products and have them delivered directly to your home or office, please use the "Shop" button we've provided below to get started.
PROVOQUE™
Youthful skin relies upon a complex system of growth factors that are produced naturally by skin cells. During the aging process, skin loses the ability to create these supporting factors, which commonly results in the formation of fine lines and wrinkles, uneven skin tone, changes in texture, and loss of firmness and elasticity. To help combat signs of aging, the stem cell growth and manipulation experts at AIVITA Biomedical developed PROVOQUE™—a revolutionary anti-aging skin care system that uses stem cell factors to achieve clinically proven results for all skin-types.
Men and women with aging skin who use PROVOQUE™ skin care products report the following benefits with regular use:
Reduction in the appearance of wrinkles and fine lines in as little as two weeks
Improvement in the skin's ability to restore and repair itself naturally
Increase in skin moisture and deep hydration
Noticeable improvement in skin firmness, radiance, and texture
PROVOQUE™ Products
PROVOQUE™ Facial Serum

PROVOQUE™ Facial Serum is a revolutionary product designed to address several key signs of facial aging by infusing skin with the full range of cell factors required during the development and maintenance of youthful skin. The patented Facial Serum formula is derived from skin stem cells and specifically addresses wrinkles and fine lines, diminished skin firmness, dryness, rough texture, and age-related discoloration.
PROVOQUE™ Facial Serum can be used on all skin types and has been tested for safety and efficacy. It is recommended that the serum be applied daily to a clean face, prior to any cosmetics.
PROVOQUE™ Eye Complex

PROVOQUE™ Eye Complex is specifically designed to treat signs of aging that develop under and around the eyes. Dermatologists at the forefront of the industry performed clinical evaluations that revealed significant improvements in the overall appearance of under-eye skin, characterized by increased smoothness, tone, and firmness, in addition to reductions in fine lines and wrinkles. In some cases, PROVOQUE™ Eye Complex began to diminish lines and wrinkles around the eyes in as little as two weeks.
PROVOQUE™ Eye Complex can be used on all skin types and has been tested for safety and efficacy. The unique roller-ball applicator prevents product contamination, feels cool on the skin, and facilitates optimal absorption.
Why Use PROVOQUE™?
Compared with other stem cell anti-aging products, PROVOQUE™ products contain an optimal balance of the natural components produced by skin stem cells. This physiologically complete formulation closely mimics the microenvironment of healthy, youthful-looking skin to deliver maximum anti-aging results.
If you are interested in learning more about PROVOQUE™, our skin care professionals can evaluate your skin and discuss how the PROVOQUE™ Facial Serum and Eye Complex can benefit your skin.
ClarityMD™ Acne Solution
The two-step ClarityMD™ acne system helps clear skin with a patent-pending formula of active botanicals and salicylic acid. ClarityMD™ is a dynamic product that quickly addresses several key causes of acne with the help of naturally derived bakuchiol, a compound similar to retinol that lacks many of its harsh side-effects. With twice daily use, the ClarityMD™ Deep Pore Cleanser and Clarifying Serum can provide the following benefits to skin:
Reduces redness and swelling
Unclogs pores
Kills bacteria
Reduces oil
Reduces post-inflammatory hyperpigmentation
ClarityMD™ can produce fast results and works to maintain the health of skin by clearing active acne lesions and preventing future breakouts.
Lumixyl® Topical Brightening Treatment
For the effective treatment of unwanted skin discoloration caused by sun exposure, skin damage, hormone changes, and other factors, we offer Lumixyl® Topical Brightening Treatment. The physician-grade Lumixyl® Topical Brightening Treatment uses innovative skin brightening science to help you achieve brighter, more even skin tone. The products that comprise the Lumixyl® Topical Brightening Treatment system include active ingredients that can combat existing hyperpigmentation and prevent the formation of new hyperpigmentation. In four simple steps, the skin can be cleansed, brightened, exfoliated, and protected, delivering healthier, more vibrant skin that should continue to improve with regular use.
eltaMD® Sun Care
We encourage our patients to prevent sun damage and protect skin with broad-spectrum facial and body sunscreens from the eltaMD® Sun Care line. Exposure to the sun's UVA and UVB rays is proven to rapidly advance skin aging and cause skin cancer. With eltaMD®  sunscreens, sunlight is reflected and scattered from the skin's surface, preventing the absorption of burn-causing rays. Daily sunscreen use is recommended at all ages and the ingredients in eltaMD® can help ensure that you get the most comprehensive, long-lasting protection possible. We carry a wide variety of eltaMD® sunscreen formulations to suit all skin types.
Contact Aloha Laser Vision
To learn more about the advanced skin care product lines we carry at Aloha Laser Vision, please contact us today.
*Individual Results May Vary