Vision Correction to Improve Post-Pandemic Life and Travel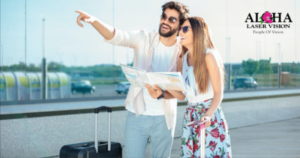 We've all been waiting a long time to get back to living our fullest lives! Why not make clear vision one of your new goals? With state-of-the-art vision correction procedures performed at Aloha Laser Vision by our board-certified ophthalmologists—Dr. Alan Faulkner & Dr. Neda Nikpoor—you can achieve improved vision and quality of life. Whether you've planned upcoming travel and vacations or enjoy an active lifestyle, vision correction can help you take more pleasure in every moment. Perhaps you want to go to sleep without needing to remove your contacts, wake up in the morning with instantly clear vision, exercise without glasses, or surf and travel without contacts—the good news is that Aloha Laser Vision can help!
The first step in improving your vision at Aloha Laser Vision is scheduling a consultation to evaluate your eye health and determine the type and degree of vision correction you require. Based on the findings of this comprehensive assessment process, your ophthalmologist will explain the procedure or procedures that can best suit your vision needs and goals. Our most popular treatment options include:
Each of these procedures are customized to precisely improve your vision and are performed using the latest technology and lenses. You can rely on our team's renowned reputation for high-quality care at every stage of the process; from your initial consultation to your follow-up appointment, our ophthalmologists and care staff strive to ensure your comfort and satisfaction. For more information about our patients' experiences and results, we encourage you to explore the outstanding online ratings and reviews we have received over the years! We also have detailed patient testimonials and vignettes featured in our blog.
Leave your glasses and contact lenses behind with advanced vision correction from Aloha Laser Vision. Our team looks forward to helping you see clearly so that you can get the most out of life! Contact Aloha Laser Vision today to schedule your consultation.
Contact Us

For More Information
Email Us
808-792-3937