Honolulu Eye Surgeon First to Implant PanOptix® Trifocal IOL in Hawaii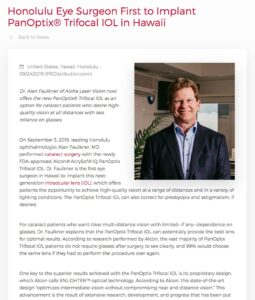 Dr. Alan Faulkner of Aloha Laser Vision now offers the new PanOptix® Trifocal IOL as an option for cataract patients who desire high-quality vision at all distances with less reliance on glasses.
Honolulu, HI – On September 3, 2019, leading Honolulu ophthalmologist Alan Faulkner, MD performed cataract surgery with the newly FDA-approved Alcon® AcrySof® IQ PanOptix Trifocal IOL. Dr. Faulkner is the first eye surgeon in Hawaii to implant this next-generation intraocular lens (IOL), which offers patients the opportunity to achieve high-quality vision at a range of distances and in a variety of lighting conditions. The PanOptix Trifocal IOL can also correct for presbyopia and astigmatism, if desired.
For cataract patients who want clear multi-distance vision with limited—if any—dependence on glasses, Dr. Faulkner explains that the PanOptix Trifocal IOL can potentially provide the best lens for optimal results. According to research performed by Alcon, the vast majority of PanOptix Trifocal IOL patients do not require glasses after surgery to see clearly, and 99% would choose the same lens if they had to perform the procedure over again.
One key to the superior results achieved with the PanOptix Trifocal IOL is its proprietary design, which Alcon calls ENLIGHTEN™ optical technology. According to Alcon, this state-of-the-art design "optimizes intermediate vision without compromising near and distance vision." This advancement is the result of extensive research, development, and progress that has been put into Alcon's industry-leading AcrySof IQ IOL platform.
Dr. Faulkner understands that today's cataract patients expect IOLs that can keep pace with the demands of their active lifestyle, and he is satisfied that the PanOptix Trifocal IOL can prove to be a formidable lens replacement option for patients who are suitable candidates. In addition to the PanOptix Trifocal IOL, Dr. Faulkner also offers a wide range of other IOLs at Aloha Laser Vision—including the ReSTOR® lens, TECNIS® Multifocal lens, TECNIS Symfony lens, and others—in order to provide his patients with the lens that best suits their vision needs, goals, and budget. Patients of Aloha Laser Vision also have the ability to choose customized all-laser cataract surgery procedures that rely upon the LenSx® Femtosecond Laser, VERION™ Image Guided System, and ORA System™.
Ultimately, Dr. Faulkner looks forward to continuing to improve patients' vision with cataract surgery and the PanOptix Trifocal IOL. As always, he has his eye on the future for the latest technology and products that can help his patients enjoy the best vision and eye care possible.
About Alan Faulkner, MD
Dr. Faulkner is board-certified by the American Board of Ophthalmology and the lead eye surgeon at Aloha Laser Vision. He received his medical degree from Tulane Medical School and went on to complete an internship in Internal Medicine, a residency in Ophthalmology, and a fellowship in Oculoplastics, Ocular Oncology, and Orbital Disease. Prior to establishing Aloha Laser Vision, Dr. Faulkner was a full-time Assistant Professor of Ophthalmology at Tulane. Since 2001, his practice has become a state-of-the-art laser vision correction center offering a broad spectrum of premium services, including LASIK, cataract surgery, and aesthetic treatments. He maintains active membership in several professional organizations, including the American Academy of Ophthalmology, the American Society of Cataract and Refractive Surgeons, and the International Society of Refractive Surgeons.
For more information about Dr. Faulkner and his practice, please visit alohalaservision.com and facebook.com/alohalaservision. He is available for interview upon request.
Contact:
Aloha Laser Vision
1100 Ward Ave., Ste. 1000
Honolulu, Hawaii 96814
(808) 972-3937
Rosemont Media
(858) 200-0044
www.rosemontmedia.com