Honolulu Ophthalmologist Implants First Visian® Toric ICL in Hawaii
Dr. Alan Faulkner of Aloha Laser Vision uses the FDA-approved Visian Toric ICL (TICL) to treat myopic astigmatism in patients who are not good candidates for laser vision correction surgery.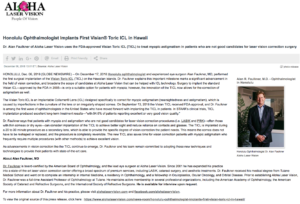 Honolulu, HI – On December 17, 2018 Honolulu ophthalmologist and experienced eye surgeon Alan Faulkner, MD, performed the first surgical implantation of the Visian Toric ICL (TICL) on the Hawaiian islands. Dr. Faulkner explains this important milestone marks a significant advancement in the field of vision correction, and broadens the scope of candidates at Aloha Laser Vision that can be helped with ICL technology. Surgery to implant the standard Visian ICL—approved by the FDA in 2005—is only a suitable option for patients with myopia; however, the innovation of the TICL now allows for the correction of astigmatism as well.
The Visian Toric ICL is an Implantable Collamer® Lens (ICL) designed specifically to correct for myopic astigmatism (nearsightedness and astigmatism), which is caused by imperfections in the curvature of the lens or an irregularly shaped cornea. On September 13, 2018 the Visian TICL received FDA-approval, and Dr. Faulkner is among the first wave of ophthalmologists in the United States who have moved forward with implanting the TICL in patients. In STAAR's clinical trials, TICL implantation produced excellent long-term treatment results—"with 94.6% of patients reporting excellent or very good vision quality."
Dr. Faulkner says that patients with myopia and astigmatism who are not good candidates for laser vision correction procedures (i.e. LASIK and PRK)—often those with thin corneas or dry eyes—can consider implantation of the TICL to achieve better sight and reduce reliance on contacts and glasses. The TICL is implanted during a 20 to 30 minute procedure as a secondary lens, which is able to provide the specific degree of vision correction the patient needs. This means the cornea does not have to be reshaped or replaced, and the procedure is completely reversible. The new TICL also saves time for vision correction patients with myopic astigmatism who frequently require multiple procedures (with other methods) to achieve excellent vision.
As advancements in vision correction like the TICL continue to emerge, Dr. Faulkner and his team remain committed to adopting these new techniques and technologies to provide their patients with state-of-the-art care.
About Alan Faulkner, MD
Dr. Faulkner is board-certified by the American Board of Ophthalmology, and the lead eye surgeon at Aloha Laser Vision. Since 2001 he has expanded his practice into a state-of-the-art laser vision correction center offering a broad spectrum of premium services, including LASIK, cataract surgery, and aesthetic treatments. Dr. Faulkner received his medical degree from Tulane Medical School and went on to complete an internship in Internal Medicine, a residency in Ophthalmology, and a fellowship in Oculoplastics, Ocular Oncology, and Orbital Disease. Prior to establishing Aloha Laser Vision, Dr. Faulkner was a full-time Assistant Professor of Ophthalmology at Tulane. He maintains active membership in several professional organizations, including the American Academy of Ophthalmology, the American Society of Cataract and Refractive Surgeons, and the International Society of Refractive Surgeons. He is available for interview upon request.
For more information about Dr. Faulkner and his practice, please visit alohalaservision.com and facebook.com/alohalaservision.
Contact:
Aloha Laser Vision
1100 Ward Ave., Ste. 1000
Honolulu, Hawaii 96814
(808) 972-3937
Rosemont Media
(858) 200-0044
www.rosemontmedia.com