Honolulu Ophthalmology Practice Offers Corneal Crosslinking for Treatment of Keratoconus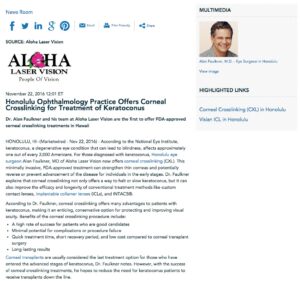 Dr. Alan Faulkner and his team at Aloha Laser Vision are the first to offer FDA-approved corneal crosslinking treatments in Hawaii.
Honolulu, HI – According to the National Eye Institute, keratoconus, a degenerative eye condition that can lead to blindness, affects approximately one out of every 2,000 Americans. For those diagnosed with keratoconus, Honolulu eye surgeon Alan Faulkner, MD of Aloha Laser Vision now offers corneal crosslinking (CXL). This minimally invasive, FDA-approved treatment can strengthen thin corneas and potentially reverse or prevent advancement of the disease for individuals in the early stages. Dr. Faulkner explains that corneal crosslinking not only offers a way to halt or slow keratoconus, but it can also improve the efficacy and longevity of conventional treatment methods like custom contact lenses, implantable collamer lenses (ICLs), and INTACS®.
According to Dr. Faulkner, corneal crosslinking offers many advantages to patients with keratoconus, making it an enticing, conservative option for protecting and improving visual acuity. Benefits of the corneal crosslinking procedure include:
A high rate of success for patients who are good candidates
Minimal potential for complications or procedure failure
Quick treatment time, short recovery period, and low cost compared to corneal transplant surgery
Long-lasting results
Corneal transplants are usually considered the last treatment option for those who have entered the advanced stages of keratoconus, Dr. Faulkner notes. However, with the success of corneal crosslinking treatments, he hopes to reduce the need for keratoconus patients to receive transplants down the line.
Many of Dr. Faulkner's patients are curious to know how this relatively simple, revolutionary procedure works. He explains that successful corneal crosslinking treatment creates more covalent bonds between the collagen molecules of the cornea, which is actually a natural biological process that takes place in the cornea as we age. These added bonds reinforce the cornea, ideally preventing it from becoming thinner and changing shape. He goes on to say that, in many cases, it is possible to thicken the cornea and flatten the conical shape to achieve lasting improvement in vision.
For individuals diagnosed with keratoconus, Dr. Faulkner strongly suggests seeking out an experienced eye surgeon who performs corneal crosslinking to find out if this kind of treatment is appropriate. He mentions that a thorough eye exam and precise corneal measurements should reveal the severity of the condition, which treatment methods will be most effective, and the degree of improvement patients can expect to achieve.
About Alan Faulkner, MD
Dr. Faulkner is the lead eye surgeon at Aloha Laser Vision and is board-certified by the American Board of Ophthalmology. He established the practice in 2001 and has worked diligently to expand it into a state-of-the-art laser vision correction center offering a wide variety of premium services, including LASIK, cataract surgery, LASIK alternatives, and aesthetic treatments. Dr. Faulkner received his medical degree at Tulane Medical School, achieving top honors as a member of Alpha Omega Alpha. He went on to complete an internship in Internal Medicine, a residency in Ophthalmology, and a fellowship in Oculoplastics, Ocular Oncology, and Orbital Disease. Before entering into private practice, Dr. Faulkner accepted a full-time position as Assistant Professor of Ophthalmology at Tulane. He is an active member of several professional organizations, including the American Academy of Ophthalmology, the American Society of Cataract and Refractive Surgeons, and the International Society of Refractive Surgeons. He is available for interview upon request.
For more information about Dr. Faulkner and his practice, please visit alohalaservision.com and facebook.com/alohalaservision.
Contact:
Aloha Laser Vision
1100 Ward Ave., Ste. 1000
Honolulu, Hawaii 96814
(808) 972-3937
Rosemont Media
(858) 200-0044
www.rosemontmedia.com