Honolulu Laser Vision Correction Practice Wins Best of Hawaii 2021 in LASIK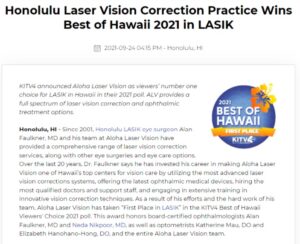 KITV4 announced Aloha Laser Vision as viewers' number one choice for LASIK in Hawaii in their 2021 poll. ALV provides a full spectrum of laser vision correction and ophthalmic treatment options.
Honolulu, HI – Since 2001, Honolulu LASIK eye surgeon Alan Faulkner, MD and his team at Aloha Laser Vision have provided a comprehensive range of laser vision correction services, along with other eye surgeries and eye care options. Over the last 20 years, Dr. Faulkner says he has invested his career in making Aloha Laser Vision one of Hawaii's top centers for vision care by utilizing the most advanced laser vision corrections systems, offering the latest ophthalmic medical devices, hiring the most qualified doctors and support staff, and engaging in extensive training in innovative vision correction techniques. As a result of his efforts and the hard work of his team, Aloha Laser Vision has taken "First Place in LASIK" in the KITV4 Best of Hawaii Viewers' Choice 2021 poll. This award honors board-certified ophthalmologists Alan Faulkner, MD and Neda Nikpoor, MD, as well as optometrists Katherine Mau, DO and Elizabeth Hanohano-Hong, DO, and the entire Aloha Laser Vision team.
Dr. Neda Nikpoor, who joined Aloha Laser Vision in early 2020 as a board-certified ophthalmologist and eye surgeon, says, "We are thrilled to have received this first place award for LASIK from the people of Hawaii, whom we serve each and every day. At our practice, we provide the most advanced LASIK treatment options—using the WaveLight® FS200 Femtosecond Laser and the WaveLight® EX500 Excimer Laser—to help patients achieve clearer vision and reduce their reliance on glasses and contact lenses." She adds, "These technologies allow Dr. Faulkner and me to improve vision with unparalleled customization and precision for optimized results."
In addition to focusing on state-of-the-art LASIK treatment, the team at Aloha Laser Vision also places an emphasis on providing a world-class patient experience, explains Dr. Faulkner. "One of our top priorities is ensuring LASIK patients feel comfortable and confident with their experience at every stage of the process, from the initial consultation through to their follow-up appointments. Our highly-trained team strives to provide a seamless experience and genuine support to each patient. We also want patients to feel comfortable investing in their vision care, which is why we offer financing options to make LASIK more affordable and accessible," says Dr. Faulkner.
For individuals who have been considering LASIK, but are anxious about the process, cost, or results, Dr. Nikpoor encourages them to see what the procedure is all about with a no-obligation consultation. "Prospective patients who are curious about LASIK are often surprised to find out how simple, effective, and accurate the procedure really is. The treatment with the laser only takes about 10 minutes, though the short preparation and recovery portions of the appointment extend the total time of the process," she says. She adds that, "Patients of Aloha Laser Vision are generally thrilled with the results of their LASIK procedure—the vast majority of our topography-guided LASIK patients achieve at least 20/20 vision, if not better!"
Ultimately, Drs. Faulkner and Nikpoor hope that news of their first place win will encourage more Hawaii residents to choose Aloha Laser Vision for their LASIK treatment. The entire team expresses their gratitude to all of those who voted for ALV in the poll and continue to support the practice through referrals and online reviews.
About Alan Faulkner, MD & Neda Nikpoor, MD
Dr. Faulkner is board-certified by the American Board of Ophthalmology and the lead eye surgeon at Aloha Laser Vision. He received his medical degree from Tulane Medical School and completed an internship in Internal Medicine, a residency in Ophthalmology, and a fellowship in Oculoplastics, Ocular Oncology, and Orbital Disease. Before going into private practice, Dr. Faulkner was a full-time Assistant Professor of Ophthalmology at Tulane. Since 2001, Aloha Laser Vision has become a leading laser vision correction center in Hawaii. The practice offers premium services, including LASIK, cataract surgery, and aesthetic treatments. Dr. Faulkner is an active member of several professional organizations, including the American Academy of Ophthalmology, the American Society of Cataract and Refractive Surgeons, and the International Society of Refractive Surgeons.
Dr. Nikpoor is a fellowship-trained, board-certified ophthalmologist and she began her career Aloha Laser Vision in 2020. She performs state-of-the-art cataract surgery, LASIK vision correction, and cornea surgery. Dr. Nikpoor received her medical degree from the University of Oklahoma and completed both her Ophthalmology residency and a fellowship in Cornea, External Disease, and Refractive Surgery at Bascom Palmer Eye Institute in Miami—which is renowned as the #1 eye hospital and residency program in the United States. In addition to her work in private practice, Dr. Nikpoor has made research contributions that have been published in peer-reviewed journals and presented at professional meetings worldwide. Furthermore, she has devoted her skills to helping the less fortunate regain their sight.
For more information about Dr. Faulkner, Dr. Nikpoor, and Aloha Laser Vision, please visit alohalaservision.com and facebook.com/alohalaservision. The doctors are available for interview upon request.
Contact:
Aloha Laser Vision
1100 Ward Ave., Ste. 1000
Honolulu, Hawaii 96814
(808) 972-3937
Rosemont Media
(800) 491-8623
www.rosemontmedia.com