Honolulu Ophthalmologists Offer New Presbyopia Eye Drop Treatment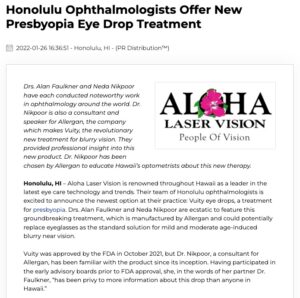 Drs. Alan Faulkner and Neda Nikpoor have each conducted noteworthy work in ophthalmology around the world. Dr. Nikpoor is also a consultant and speaker for Allergan, the company which makes Vuity, the revolutionary new treatment for blurry vision. They provided professional insight into this new product. Dr. Nikpoor has been chosen by Allergan to educate Hawaii's optometrists about this new therapy.
Honolulu, HI – Aloha Laser Vision is renowned throughout Hawaii as a leader in the latest eye care technology and trends. Their team of Honolulu ophthalmologists is excited to announce the newest option at their practice: Vuity eye drops, a treatment for presbyopia. Drs. Alan Faulkner and Neda Nikpoor are ecstatic to feature this groundbreaking treatment, which is manufactured by Allergan and could potentially replace eyeglasses as the standard solution for mild and moderate age-induced blurry near vision.
Vuity was approved by the FDA in October 2021, but Dr. Nikpoor, a consultant for Allergan, has been familiar with the product since its inception. Having participated in the early advisory boards prior to FDA approval, she, in the words of her partner Dr. Faulkner, "has been privy to more information about this drop than anyone in Hawaii."
According to Dr. Nikpoor, "Our eyes have the power to reduce the size of our pupils in order to increase our depth of vision. Vuity triggers that reaction and can improve presbyopia, or blurry near vision, for up to six hours." The application of the medication, she continues, is very similar to traditional eyedrops, and is usually taken once a day. "The effects usually begin 15 minutes after application," Dr. Nikpoor adds.
While the ophthalmology world is currently abuzz with excitement over Vuity, Aloha Laser Vision's team reminds patients that the product is not for everyone. This drop is best for mild and moderate presbyopia, says Dr. Nikpoor. As the eye continues to age, presbyopia will become too advanced for presbyopia. "For patients with advanced presbyopia or those who want a permanent solution," Dr. Nikpoor explains, "refractive lens exchange may be an option." The practice, which is known as one of the most technologically advanced in Hawaii, also offers LASIK surgery to treat a variety of visual impairments.
About Neda Nikpoor, MD & Alan Faulkner, MD
Dr. Nikpoor joined Aloha Laser Vision's team in 2020, having long since established herself as a leading ophthalmologist in Honolulu and beyond. She completed her residency and fellowship at the distinguished Bascom Palmer Eye Institute, before embarking on a specialized fellowship through Stanford University designed to treat cataracts and blindness in developing world countries. She is well known for her devotion to patient communication, and her ultimate goal is to eradicate blindness around the globe.
Dr. Faulkner, a Fellow of the American Academy of Ophthalmology, founded the practice in 2001 after completing a fellowship in Oculoplastics, Ocular Oncology, and Orbital Disease at Tulane University, where he also served as an Assistant Professor of Ophthalmology. He has previously held the title of Ophthalmology Section Chief at Charity Hospital of New Orleans and was the Residency Program Director of Ophthalmology at Tulane, and is a member of many prestigious organizations, including the International Society of Refractive Surgeons. He is also a founder of the American College of Ophthalmic Surgery.
In addition to LASIK eye surgery, refractive lens exchange, cataract surgery, and other vision-related treatments, the practice offers a variety of skin rejuvenation treatments and non-surgical cosmetic procedures. The doctors are available for interview upon request.
For more information about Dr. Nikpoor, Dr. Faulkner, or their practice, please visit alohalaservision.com or facebook.com/alohalaservision, or find the practice on Instagram @alohalaservision and @drnedanikpoor.
Contact:
Aloha Laser Vision
1100 Ward Ave., Ste. 1000
Honolulu, Hawaii 96814
(808) 972-3937
Rosemont Media
(800) 491-8623
www.rosemontmedia.com