VUITY™: The First FDA-Approved Eye Drop for Presbyopia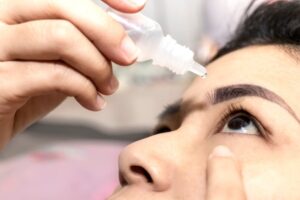 Many Americans suffer from presbyopia, an eye condition characterized by a decrease in the ability to see items up close. Symptoms typically begin when a patient reaches their 40s and progress with age. While no cure currently exists, presbyopia can traditionally be mitigated with eyeglasses, a reflective lens exchange (RLE), or other treatments according to its severity.
In addition, our team at Aloha Laser Vision is excited to offer VUITY™  prescription eye drops, the first and only FDA-approved eye drop developed to treat presbyopia. VUITY™ was introduced to the market in October 2021 by Allergan, a major pharmaceutical company for which Dr. Neda Nikpoor, one of our dedicated ophthalmologists, is a consultant and speaker. As a leading eyecare professional in Hawaii, she has educated the majority of the state's optometrists on the administration, dosage, and prescription of VUITY™.
Made of a pilocarpine hydrochloride ophthalmic solution, the drops are meant to be taken once daily and usually take effect within 15 minutes. As VUITY™ was specifically designed to treat mild to moderate presbyopia, the drops are generally best suited for patients under age 55 in need of +2.00 reading glasses or less. Patients with more severe presbyopia may benefit from a surgical or permanent solution, such as RLE. Dr. Nikpoor or her partner at Aloha Laser Vision, Dr. Alan Faulkner, will gladly meet with you for a refractive consultation to evaluate your symptoms and discuss your options for treatment.
To learn more about VUITY™ or other advanced treatments offered at our practice, please contact Aloha Laser Vision today.
Contact Us

For More Information
Email Us
808-792-3937